Football is one of the fastest growing sport in India. This is the nation which is specially known for games like cricket, hockey. But now, the Sports Authority of India is taking interest on World's most popular sport also. They have announced renovation of some stadiums for upcoming competitions. There are 3 stadium with audience capacity of more than 50,000. So if you are desperate to know about the football stadiums of India, then continue your reading.
Top 10 Indian Football Stadiums [Capacity]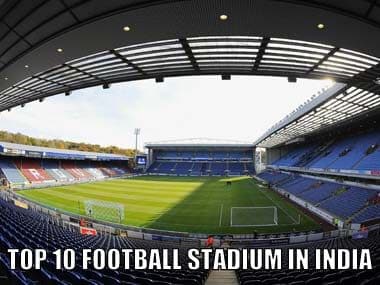 In this countdown, we have a home ground of India's first football club Mohun Bagan at tenth spot. Kriti Mitra is the owner of Mohun Bagan ground known as Mohun Bagan Villa. It is located at Fariapukur street of North Kolkata.
9. East Bengal Ground [24,000]
East Bengal Ground is mostly used for soccer games. It is home arena of kingfisher east Bengal F.C. The field has a natural grass turf with commentary box radios and TV. it lies in Kolkata Maiden area on the northern side of Fort William and its near the Eden Garden which is home arena of IPL team Indian premier league.
8. Khuman Lampak Main Stadium [30,000]
Khuman Lampak is mainly used for football and athletics. It was opened for matches in 1999 with initial seating of 26,000. It is a one tier with roofing only on the main stand. In May 2011, it was announced that floodlights will be added to it along with a new new turf.
7. Nehru Stadium [Coimbatore, Capacity: 30,000+]
Tamil Nadu located Nehru stadium is the seventh highest ground in India. It was opened in 1971 & went for renovation in 2008. The synthetic track is not the cheap pre fabricated version. A tunnel was even planned from the main entrance to take athletes to the field without disturbing the track events. It is full polyurethane, quite expensive but one of the latest in the nation.
6. Nehru Stadium [Guwahati, Capacity: 31,000+]
It is used for both football as well as for cricket matches. The ground is known for having an seating plan of 30,000 which makes it sixth largest in India. It is situated in Guwahati, Assam. R. G. Baruah Board of Sports of Assam are the owners. Assam cricket team is the tenant of it. On 17th December 1983, first One Day International cricket match was played on it.
5. Kanchenjunga Stadium [40,000]
Siliguri based Kanchenjunga ground is the fifth biggest football arena in terms of highest seating. It was built in 1980 for an I‑league club Prayag United S.C. For its In January 2014, a plan of Rs. 1.7 crore was announced for its renovation. Owners of Kanchenjunga also uses it for cricket competition like Ranji trophy. In 2012, it also hosted Federation Cup which was won by Churchill Brothers.
4. Sree Kantveera Stadium [41,000+]
Although it is a multi purpose arena, but it is mainly used for football games. A running track also surrounds it & is also consists of volleyball court. Right now, total of 40,000 seats are available in it. Bengluru FC & Bangalore ISL team are the tenants of Sree Kantveera. It is currently under renovation for first season of Indian Super League.
3. Jawaharlal Nehru Stadium [Kochi, Capacity: 60,000]
Here is another soccer ground named after first prime minister of India. It was opened in 1996 bu the Government of Kerala with Greater Cochin Development Authority. It is also being used for I‑league for Chirag United Club Kolkata. Along with football, it also hosts matches of cricket. On 9th April 2011, first Indian premier league match was played on this ground between Kochi Tuskers Kerala & Royal Challengers Bangalore.
2. Jawaharlal Nehru Stadium [Delhi, Capacity: 75,000]
It is the second largest arena with total audience capacity of 60,000. Delhi based Jawaharlal Nehru ground is a multi purpose arena which is used for other football events also. For concerts, it can manage 1,00,000 audience. It was built in 1982 to organize Asian Championships in Athletics. Later in 2010, it also hosted Commonwealth Games.
1. Salt Lake Stadium [1,20,000]
This is the biggest football of India which is located in Bidhannagar, Kolkata, West Bengal. It was opened in 1984 in an elliptical shape. Salt lake is also the second largest football field all over the world in terms of seating capacity after Rungardo May Day. The North Korean arena can accommodate 1,50,000 audience at once. Salt lake is home ground of ISL team Atletico de Kolkata.