Here is the complete list of Cristiano Ronaldo records & awards which he won during his professional career. Right now, the Portuguese forward is playing for richest football club i.e. Real Madrid. He was transferred from British club Manchester United with a record transfer fee of 80 million pounds which made him the most expensive player till Gareth Bale in 2014. Have a look on his records & stats list below.
Cristiano Ronaldo Records List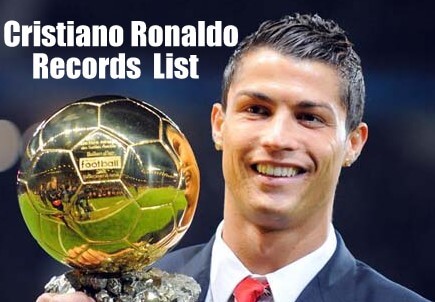 Domestic leagues
Cristiano Ronaldo is the fastest player in the history of Spanish league to score 50 goals in single season.

He is also the first player to score fastest 100, 150, 200 & 250 league goals ever.

He is the only player to score 7 hat-tricks in a single season of domestic league.

In Champions league season of 2013–14, Ronaldo broke record of Lionel Messi's 14 goals in a single season. He set up a new record of scoring 15 goals in single UCL competition.

Most goals scored group stage of UEFA champions league.

First European player to reach 40 goals in a single season in two consecutive years.

He is the first ever player to ever score more than 10 goals in 3 consecutive UEFA Champions seasons.

First ever player to score in six consecutive El Clasicos & the fastest La Liga player to score 150 league goals.

First football player to score more than 25 goals in five consecutive seasons of La Liga tournament.
European Records
He is the first footballer to score for two different winning teams in UEFA Champions league history.

He is most consecutive player of Champions league to score in 8 matches.

He has joined Lionel Messi in winning maximum golden boots of domestic league winning 3 European Golden shoe awards.

First and the only player to have won the European Golden Shoe in 2 different leagues. [First one with Manchester United & second one with Real Madrid].

Cristiano Ronaldo is the first player to score 20 away goals in single season of Spanish league.

highest number of goals scored to win the Premier league Golden boot for 38 game season scoring 31 goals. Luis Suarez & Alan Shearer are also in same list.
World Records
Most international goals in a year with club & national football team: 25.

He is the most expensive player after Welsh player Gareth Bale who joined Real Madrid in 2013.

All time top goal scorer of Portugal national football team. So far, he has netted 50 times in international duty.
Most matches played in FIFA World Cup finals: 13 games.

The youngest player to make 100 appearances at the age of 27 years, 8 months & 11 days.
Cristiano Ronaldo All Awards List
Portugal
UEFA European Championship Runner-up in 2004

UEFA EURO 2012 Bronze award
Manchester United
Premier League titles in 2006-07, 2007–2008, 2008–2009

UEFA Champions League: 2007-08 & Runner up in 2008-09

Football League Cup: 2005-06, 2008-09

FA Cup: 2003-04 & Runner up in 2004-06, 2006-07

FA Community Shield: 2007

FIFA Club World Cup: 2008
Real Madrid
Spanish league [La Liga ]: 2011-12

UEFA Champions league: 2013–14

Copa del Rey: 2010-11, 2013–14

Supercopa de Espana: 2012 & Runner-ups in 2011

UEFA Super Cup: 2014
Individual Awards
Sir Matt Busby Player of the year: 2003-04, 2006-07, 2007-08

FIFPro young player of the year: 2005 & 2006

PFA Young player of the year: 2005-06, 2006-07, 2007-08, 2008-09

PFA player of the year: 2006-07, 2007-08

Barclays player of the year: 2006-07, 2007-08

Premier league golden boot: 2007-08

European Golden Boot: 2007-08, 2010-11, 2013–14

UEFA Champions league top scorer: 2007-08

FIFA Ballon d'Or: 2008, 2013

Copa del Rey top scorer: 2010-11

Trofeo Alfredo Di Stefano: 2011-12, 2012–13, 2013–14

IFFHS World's best top goal scorer: 2013

La Liga Top goal scorer: 2010-11, 2013–14

UEFA Euro Top scorer: 2012

LFP most Valuable player: 2012–13.

LFP Best Player: 2013–14

LFP Best Forward: 2013–14

LFP Best Goal: 2013–14
In June 2010, Ronaldo became the fourth football player to be represented as a waxwork at Madame Tussauds London. He is the Brand Ambassador of American based Nike. Also, he is the most followed footballer on Facebook with more than 90million followers. He is also one of the most popular footballer on Google+ with more than 4 million followers.