Xavi Hernandez is football superstar from the country Spain. He has a big role of making Spain today world's number 1 football team. He was born in January in the state of Terrassa, Spain. Currently he is playing for the club Barcelona with a jersey number of 6. He joined football at the age of just 11 through La Masia. La Masia is the youth Academy of Barcelona.
Xavi Hernandez

Date of Birth

25th January 1980

Full Name

Xavier Hernandez i Creus

Birth place

Terrassa, Spain

Playing Position

Midfielder

Club

1st Club

Barcelona

Current Club

Barcelona

Jersey Number

6

National (Goals)

Spain U17

1997 (2)

Spain U18

1997–98 (0)

Spain U20

1999 (2)

Spain U21

1998–2001 (7)

Spain U23

2000 (11)

Spain

2000- (11)

Catalonia

1998- (2)
Personal Life of Xavi Hernandez
His full name is Xavier Hernandez i Creus. He was born in 25th January 1980 in Terrassa. Naturally he is player of Spain National Football Team & his position is Midfielder. His father Joaquim was player of Sabadell in first division. He started his football career with Under17 Spanish team in the year of 1997. Currently he is playing for Barcelona which is world's 2nd most popular International club. In 18th August 1998, Xavi played his 1st match against RCD. And then he made his International appearance in 2000. Spain has won FIFA 2010 World Cup and 2 EURO Cup of 2008 and 2012 in his presence. In UEFA EURO 2008, he was awarded with player of the tournament. He is the only player from Barcelona who has played more than 150 matches. He is also the single player of Spain who has won more awards than any other Spanish player. The greatest honours of football which is Ballon d'Or, he got 5 times nominations. Also he got 3rd place three times in 2009, 2010, 2011.In 2012 Ballon d'Or he was runner up after Andres Iniesta. That award was won by Lionel Messi.
Club Career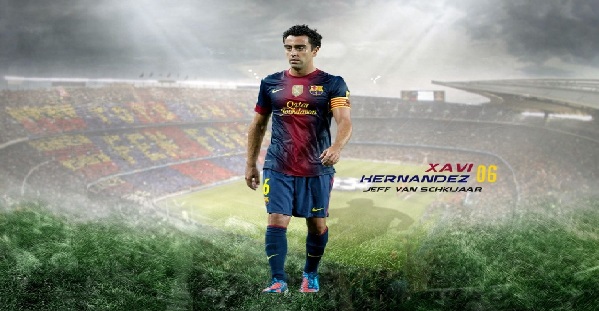 He is the player who is playing for Barcelona F.C. since 1998. With this long contract, Barcelona has huge hope for further contract with this Spanish player. His first appearance was observed on 12th of May 1998. After that he played his 1st complete debut match on 3rd of October 1998 and that match was played against RCD Mallorca. Against Valencia CF his one and only single goal helped Barcelona to beat Real Valladolid. AT that time, his club was at 10th position in the league. That season was remarkable for him after playing 26 matches and assists Barcelona to won the title of Spanish League. La Liga awarded him as player of the year. In the year 2004–2005, he became the vice captain of the club and helped the team to win the title of Spanish League and Spanish Supercup. Again he was called the Spanish player of the year in 2005 but thereafter he was not very good in terms of his fitness. Due to wound on his left knee, he was away from football for 2 months. In the finals of 2006 UEFA Champions league he was substituted in place of other player.
Club

Season

League

Cup

Europe

Other

Total

Apps

Goals

Apps

Goals

Apps

Goals

Apps

Goals

Apps

Goals

Barcelona B

1997–98

39

3

-

-

-

-

-

-

39

3

1998–99

18

0

-

-

-

-

-

-

18

0

1999–20

4

1

-

-

-

-

-

-

4

1

Barcelona

1998–99

17

1

3

1

6

0

1

1

27

3

1999–20

24

0

4

1

10

1

0

0

38

2

2000-01

20

2

7

0

9

0

-

-

36

2

2001-02

35

4

1

0

16

0

-

-

52

4

2002-03

29

2

1

0

14

1

-

-

44

3

2003-04

36

4

6

0

7

1

-

-

49

5

2004-05

36

3

1

0

8

0

-

-

45

3

2005-06

16

0

0

0

4

0

2

0

22

0

2006-07

35

3

7

2

7

0

5

1

54

6

2007-08

35

7

7

1

12

1

-

-

54

9

2008-09

35

6

5

1

14

3

-

-

54

10

2009-10

34

3

2

2

11

1

5

1

52

7

2010-11

31

3

6

0

12

2

1

0

50

5

2011-12

31

10

7

2

9

1

4

1

51

14

2012–13

28

5

5

0

11

1

2

1

46

7

Totals

503

57

62

10

150

12

20

5

674

80
Spain International Career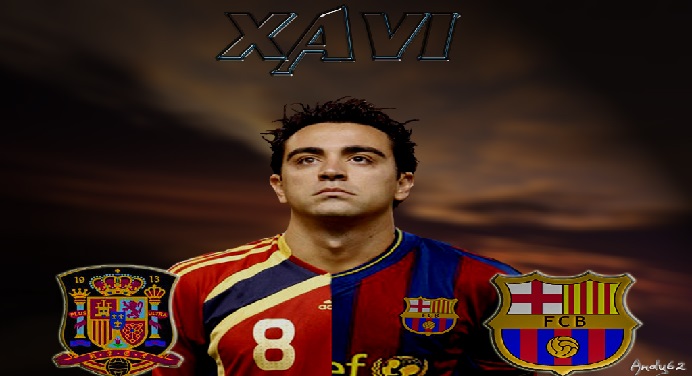 | | | |
| --- | --- | --- |
| Season | Appearances | Goals |
| 2000-01 | 1 | 0 |
| 2001-02 | 5 | 0 |
| 2002-03 | 8 | 0 |
| 2003-04 | 5 | 0 |
| 2004-05 | 8 | 1 |
| 2005-06 | 13 | 0 |
| 2006-07 | 7 | 3 |
| 2007-08 | 16 | 4 |
| 2008-09 | 14 | 1 |
| 2009–2000 | 17 | 0 |
| 2000-11 | 7 | 1 |
| 2011-12 | 14 | 1 |
| 2012–13 | 5 | 1 |
| Totals | 120 | 12 |
Awards for Hernandez
La Liga Breakthrough Player of the year: 1999

La Liga Spanish Player of the year: 2005

UEFA EURO player of the tournament: 2008

UEFA EURO team of the tournament: 2008,2012

IFFHS World's best playmaker: 2008, 2009, 2010, 2011

FIFA World XIL 2008, 2009, 2010, 2011, 2012

ESM team of the year: 2008-09, 2010-11, 2011-12

UEFA team of the year: 2008, 2009, 2010, 2011, 2012

UEFA Champions league final man of the match: 2009

UEFA Club midfielder of the year: 2008-09

La Liga midfielder player of the year: 2009, 2011

FIFA Club World Cup Bronze ball: 2009

Ballon d'Or 3rd place: 2009, 2010, 2011
FIFA World player of the year 3rd place: 2009

FIFA Club world cup Silver Ball: 2011