Carlos Henrique Casemiro is generally called as Casemiro who is Brazilian Football player & currently playing for Spanish Club Real Madrid. The player is recently signed by The Vikings for which he currently playing. Before Real Madrid, he was playing for Brazilian club Sao Paulo where he scored 6 goals after playing 62 matches. Here is the complete biography of Casemiro with Football clubs & Awards in detail.
Casemiro Profile
Full Name

Carlos Henrique Casemiro

Birth Date

23 Feb 1992

Birth Place

Sao Jose dos Campos (Brazil)

Playing position

Center Midfielder

Club Career

Year

Club

Matches & Goals

2010–13

Sao Polo

62, 6

2013*

Real Madrid

19, 1

National Career

2009

Brazil U17

3, 0

2011

Brazil U20

15, 3

2011*

Brazil

5, 0
Biography of Casemiro
Casemiro was born in Sao Jose dos Campos, a city of state Sao Paulo, Brazil. He was born in 23 February 1992 & started playing football right from his childhood. At the age of only 11 years, he was selected for Sao Paulo junior team & was the captain of his football team. He played 3 national matches for Brazil Under 17 football team. Thereafter he was also player of Brazil U20 team & scored 3 goals after playing total of 15 games. In the year of 2011, Brazil Football federation signed him as international player & he has played 5 matches for Brazil. He is a center Midfielder footballer who is known for playing versatile game. He also shows aggressive nature in tough games & is called as a long range shooter & makes great assists. He is also known as good defender.
Carlos Henrique Casemiro Football Clubs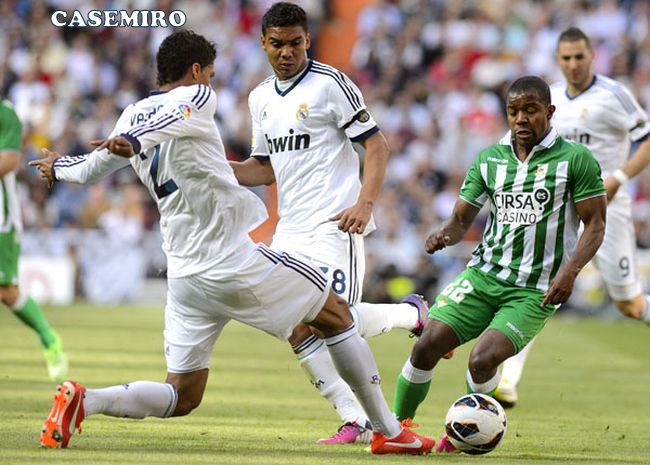 In the year of 2010, Casemiro begun his professional football club career & made his debut in Brazil football club Sao Paulo. He scored his first goal for his club against Cruzeiro. While playing for this club he scored 6 goals with 62 appearances. In 2013, World Richest Football club Real Madrid signed him on loan for which he is currently playing. The Spanish club has signed him for 4 years & he will play next four season for this club. On 20 April 2013, he made his debut for Real Madrid against Real Betis. The Vikings won that match with goal score of 3–1. Now he is playing with one of the best football Cristiano Ronaldo.
Casemiro Awards With Wallpapers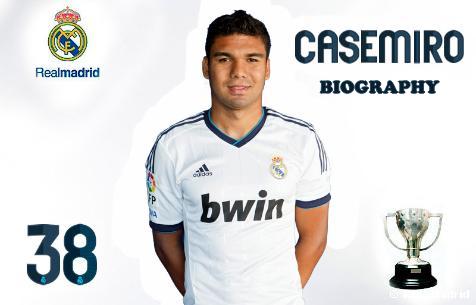 Copa Sudamericana

Sao Paulo U15 State Championship : 2007
Club U17 World Cup Championship : 2008

Copa Sao Paulo de Juniores : 2010

South American Youth Championship : 2011

FIFA U20 World Cup : 2011

Supercalsico de las Americas : 2011