Eden Hazard is a Belgian football player who was born in La Louviere, Belgium on 7 January 1991. His first professional club was a French club called Lille for which he played from 2007 to 2012. Hazard's current club is an English club which Chelsea FC. The player is still playing for his national team Belgium. He is an attacking midfielder & also a winger. His father also played for Belgium & following his father, Eden started his career as for local clubs Royal Stade Brainois & Tubize. Hazard spent two years in the club's academy and & the age of sixteen, he made his professional debut in November 2007.
Eden Hazard

Full name

Eden Hazard

Birth date

7 January 1991

Birth place

La Louviere, Belgium

Playing position

Attacking midfielder

Current club

Chelsea FC

Jersey Number

17

Senior career

Years

Team

2007–2012

Lille

2012

Chelsea

National Team

2006

Belgium U16

2006–2007

Belgium U17

2007–2009

Belgium U19

2008

Belgium
Childhood of Hazard
He was born in La Louviere but he was grew up in Braine le Comte. His mother name is Carine & father's name is Thierry. It is interesting to know that both mother & father were footballers. Football is inherited to Hazard from his parents. His mother was a forward player of in the Belgian Women's First Division. After marriage being pregnant with hazard, she stopped playing but his father continued to play. Father of Hazard played mostly for semi professional level with La Louviere with the Belgian second division. His father's playing position was a defensive midfielder. He is known to have 3 brothers & he is eldest son of his parents. All of his brothers are footballers, so you can call Hazard family a football family with a team of 7 players. His brother Thorgan Hazard also joined him in his professional club Chelsea in the year of 2012. With one of the great players in names of their parents & football game, Eden & all his 3 brothers spent a comfortable living. The other younger brothers of him are Ethan & Kylian. Ethan played for youth academy which & in the year of 2013, Kylian joined White Star Bruxelles. Eden Hazard wife name is Natasha. It was 19 December 2010, when he became father & his wife became mother. Their first baby boy name is Yannis. Thereafter, his wife given birth to 2nd child called Leo. There are expectation of new players from same family as both of them are boys.
Club career in detail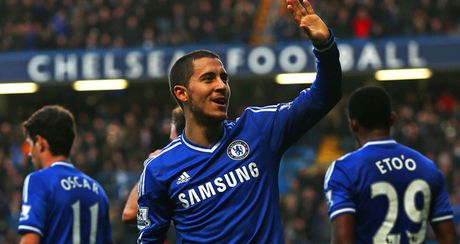 As he was a born footballer, Eden joined his first ever football club called Royal Stade Brainois. He was just 4 when he joined this club. His next club was Tubize. He played for almost 8 years in this club. He was so talented that his coaches used to say "he knew everything. I had nothing to team him". They called him a "gifted" player. His next club was Tubize, While playing in this club, a French Lille club member noticed him & offered an offer to play for their club. When Lille member contacted his father about this offer, he accepted and allowed Eden to play this French club. Lille first trained him in local school for almost 2 years. Then on 28 May 2007, he was joined to to French club Lille. Hazard made his amateur debut on 1 September 2007 in a league match against Racing club de France appearing as a second half substitute in a 3–1 defeat. At this club, he made 147 appearance in which he scored 36 goals from 2007 to 2010. He then joined his careers biggest club in name of Chelsea football club in 2012. The former Lille club player joined this club with transfer fees of 32 million euros. During signing with this club, he told "I'm delighted to finally arrive here. It is a wonderful club & I can't wait to get started". At Chelsea he got 17 number Jersey. Against Seattle Sounders, he made his first appearance for this new club.
Awards and honors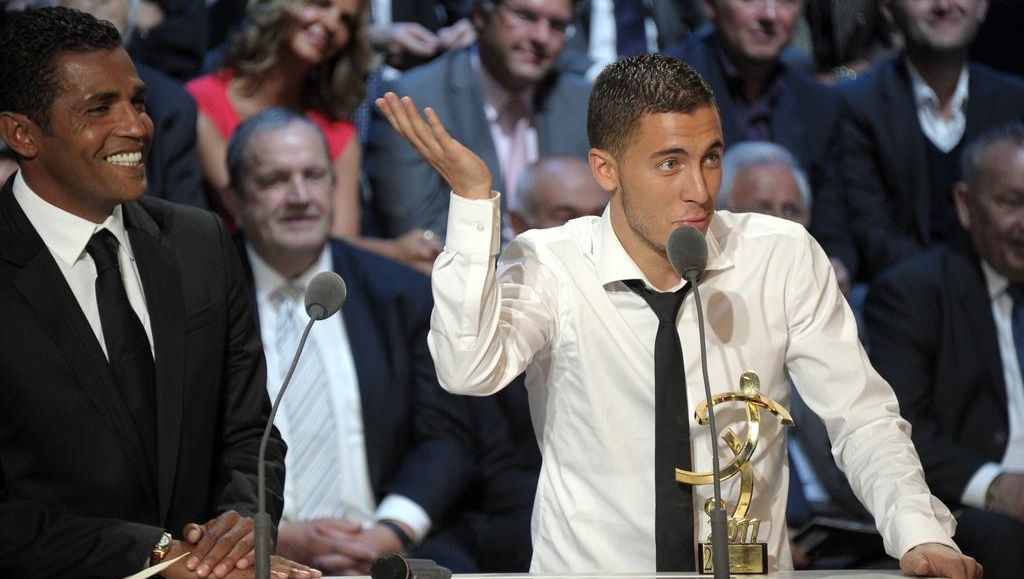 Club Awards

Team

Year

Lille

Ligue 1

2010-11

Coupe de France

2010-11

Chelsea

UEFA Europa League

2012–13

Individual Awards
UNFP Ligue 1 player of the year

2010-11, 2011-12

UNFP Ligue 1 young player of the year

2008-09,2009–10

UNFP player of the month

March 2010, March 2011,

March 2012

Premier league PFA team of the year

2012–13

Bravo Award

2011
Earnings of Eden Hazard
His club Chelsea is known for one of the highest playing teams in terms of weekly wages. His salary is revealed by the trusted source which we are sharing with you. Right now, Eden is getting highest weekly salary in this club. He joined this club for 5 years. The current earnings of Eden Hazard are £185,000 per week. His contract with Chelsea will expire in June 2017.