List of United States National Football Team All Time Top Goal Scorers
USA national team have produced so many talented players in the football world who have scored so many goals for US national side at the international level. During past few years, Team USA have showed their best football. Credits goes to their players for making the best national team of United States. Landon Donovan is one of them who represented the nation since 2000 to 2014 in 157 matches. He scored 57 goals and is the leading goal scorer of the USA football. Check out below the list of USA football team highest goal scorers.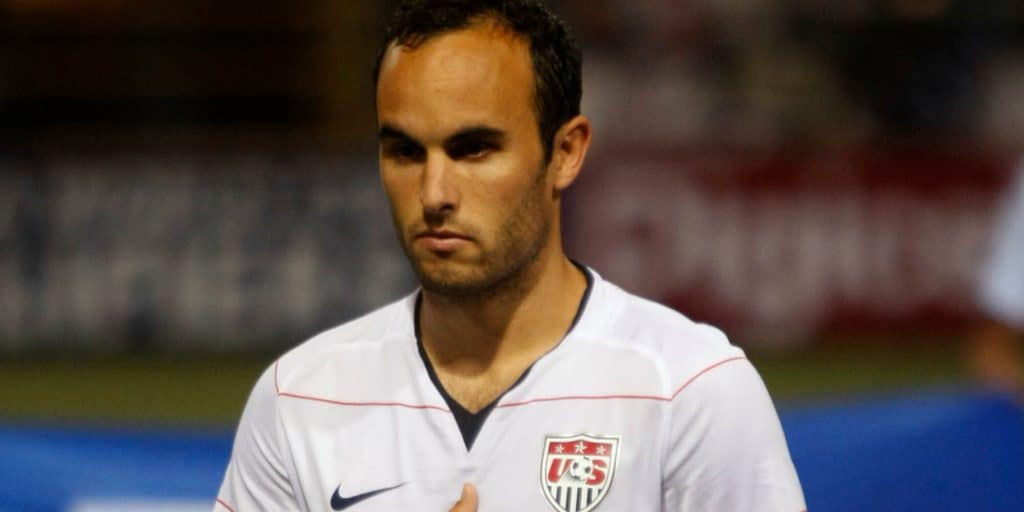 USA National Football Team Top Goal Scorers List
Top Goalscorers of USA Football Team

Serial No.
Career
Player
Goals
Matches

1

2000–2014

Landon Donovan

57

157

2

2004-present

Clint Dempsey

43

114

3

1990–2000

Eric Wynalda

34

106

4

1993–2006

Brian McBride

30

95

5

2007-present

Jozy Altidore

27

82

6

1992–2002

Joe-Max Moore

24

100

7

1985–1993

Bruce Murray

21

85

8

2004-present

Eddie Johnson

19

63

9

1990–2004

Earnie Steart

17

101

10

2001-present

DaMarcus Beasley

17

121
Related To: Gold Cup All Time Leading Goal Scorer
Former US forward player Donovan is the leading goal scorer for US football team with 57 goals. Also, Landon Donovan is the top goal scorer of Major League Soccer. In his 15 year career, he represented US in the 157 matches, second most capped player after Cobi Jones. You can call him the best footballer in the history of US football. He holds record of scoring 144 goals and 136 assists [more than any player] in the history of MLS soccer.
Related: Argentina top 10 goal scorers list of national team
Former team captain Clint Dempsey is the second highest goal scorer for US after the Landon Donovan. Dempsey represented the US in 114 games and scored 43 goals. He is currently the member of US football team and expected to become the highest goal scorer in the future.
Related: Spain top Goal Scorers of All time in national football
Eric Wynalda scored 34 goals in his 106 games for US team. Eric is third highest goal scorer for USA football team. Brian McBride (30), Jozy Altidore (27), Joe-Max Moore (24) and Bruce Murray (21) are on the fourth, fifth, sixth and seventh position respectively.
Eddie Jonson (19), Earnie Stewart (17) and DaMarcus Beasley (17) are at the 8th, 9th and 10th position respectively.