Here is the complete list of Real Madrid top goal scorers of all time in history of professional football. The club is also known as the vikings, Los Blancos, the whites as their nicknames. In 2014 the club becomes the first club to complete the dream of La Decima [won 10th European champions league title]. Real Madrid plays in Spanish top division football league known as La Liga against 19 teams. Check out the list of all time top goal scorers of Real Madrid.
Top 10 Highest Goal Scorers of Real Madrid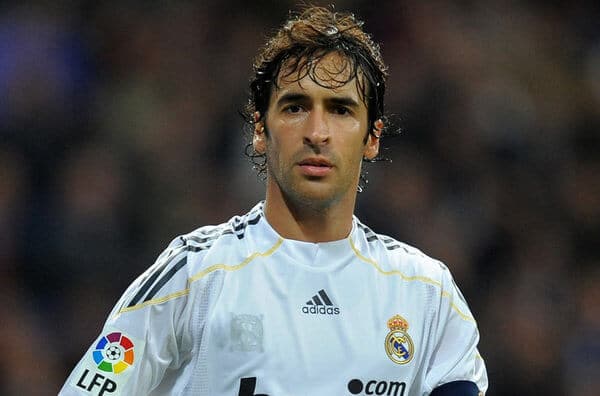 At the top spot there is former Spanish football Raul who is still all time top goal scorer of Real Madrid club de Futbol. Raul scored 323 goals for his club after played 741 games with goal scoring ratio of 0.44. At the second spot, there is another legend Alfredo De Stefano who took the club to new heights. Stefano netted 305 times in 392 matches with goal scoring ratio of 0.78. Have a look on other players of this list below.
Read also: All trophies won by Real Madrid
No.
Player
Goals
Matches
Ratio

1

Cristiano Ronaldo

325

312

1.04

1

Raul

323

741

0.44

2

Alfredo Di Stefano

307

396

0.78

3

Carlos Santillana

289

645

0.45

4

Ferenc Puskas

242

262

0.92

5

Hugo Sanchez

208

282

0.74

6

Francisco Gento

179

599

0.3

7

Pirri

171

561

0.3

Emilio Butragueno

171

463

0.37

8

Amancio Amaro

155

471

0.33
Top Goal Scorers in Different Competitions
After this list, let's have a look on most goal in various competitions. Given below is the list of top goal scorers in different tournaments.
Top goals scorer in La Liga: Cristiano Ronaldo [230]
Most goals scorer in FIFA Club World Cup: Nicolas Anelka [3]

Most goals in intercontinental cup: Ferenc Puskas [2]

Most goals in Copa del Rey: Ferenc Puskas and Carlos Santillana [49 each]
Top goal scorer in UEFA Champions League: Raul Gonzalez [66]
Highest goal scorer in Supercopa de Espana: Raul Gonzalez [7]

European cup top scorer: Alfredo Di Stefano [49]

Most goals scored in UEFA Super Cup: Cristiano Ronaldo [2]
Single Season Records
UEFA Champions League top scorer: Cristiano Ronaldo [17, Season 2013–14]

La Liga most goals in one season: Cristiano Ronaldo [46, season 2011-12]

Most goals in all competition in one season: Cristiano Ronaldo [60, 2011-12]

Copa de la liga top scorer: Carlos Santillana [4, 1982–83]

UEFA Cup Winners Cup: Carlos Santillana [8, season 1982–83]

Copa del Rey: Ferenc Puskas [14, season 1960–61]
Note: This list of Real Madrid all time top goal scorers was last updated on 1 October 2015. Real Madrid also holds the record of winning most La Liga [32] and Champions League [10] titles. Former club captain Raul played most number of games [741] from 1994 to 2010.