Lionel Messi is a footballer who does not need any introduction. Every football fan knows him what he is today. But do you know what workouts and diet plan he follows to remain fit for games? Messi spends time not only on field, but also off field. Today he is tasting huge success across the globe. The four times FIFA Ballon D'or winner [2009, 2010, 2011 & 2012] Barcelona player is the only one who made it four times in a row. To achieve this achievement, not only his skills and technique helped him, his daily workouts and special diet plan played a vital role in his footballing career.Few people knows about his early life. During his childhood, Messi was suffering from a hid hormone deficiency. His father was not in condition to afford the medical treatment of Messi. But the Spanish football member found growing star in Lionel Messi and made contract with his father. He was then shifted to Spain at the age of eleven. The payer is now turned into a super professional football player & is still playing for his current club Barcelona. He won countless trophies and won lots of awards. In 2014 FIFA World Cup, Messi was awarded with FIFA Golden ball award, played the whole tournament and finished at second spot with his national team Argentina. Read also: Lionel Messi Mobile Covers
Lionel Messi Workouts, Exercise Routine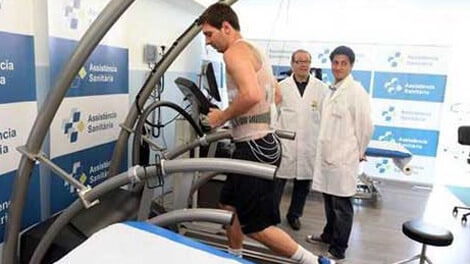 Messi follows special workouts of all kinds specially for legs. His instructor helps him to maintain fit body for his consistence performance. So let's have a look on workouts routine of Lionel Messi which are given below.
Movement Workouts of Messi
His workouts also includes pillar bridges, in which one can position on his elbows and toes for varying amounts of time. The workout also includes knee hugs, inverted hamstring stretches, pillar skips and rapid response 2 foots, which strengthen the ankles, knees and hips. These movements are followed by hurdle hops, split squat jumps, acceleration wall drills, acceleration split stance, and acceleration to base.
2 sets of acceleration wall drill of 5 each side

2 sets of acceleration wall drill — single exchange of 5 each side

3 to 5 sets of acceleration — split stance of 10 yards

2 sets of acceleration wall drill — triple exchange of 5 each side

3 to 5 sets of acceleration to base of 10 yards

2 sets of pillar bridge — front of 30 seconds

1 set of knee bug lunge of 4 repetitions each side

1 set of inverted hamstring stretch of 4 repetitions each side

1 set of pillar skip — linear of 15 yards repetitions

2 sets of rapid response 2 foot- linear of 5 seconds
Read also: Cristiano Ronaldo Workouts & Diet Plan
Plyometrics Exercises
2 to 3 sets of Hurdle hop — lateral of 5 hurdles each

2 sets of lateral bound of 4 each side

2 to 3 sets squat jump of 4 each side
Diet Plan of Lionel Messi
As workouts does not works alone, Messi follows almost normal diet plan before match day. He prefers to eat low carbohydrates, fat meals. Along with veg and non veg food, he also takes beverages which includes soup. Sports person prefers diet plan which contains beverages because it helps in making thin blood so that it can easily flow in blood vessels in order to supply more oxygen. Breakfast: In breakfast, he likes to take corn flakes, dry fruits [almonds, hazelnuts, nuts peanuts etc.]. Fruits are also major part of his breakfast which includes Banana, Apple, Orange, Kiwi. Cooked ham, cheese in slides, ham, sandwich and bread are also his breakfast meals. Lunch & Dinner: His lunch and dinner table consists of Salads made with tomato, cucumber, onions. Other lunch and dinner meals are hard boiled eggs, hearts of palms and natural tuna fish. Parma ham, cheese, pasta are also included Messi's diet plan. He also eats fruit salad. Beverages in his meals are soup, tea, fruit juice. That's all about the workouts and diet plan of Lionel Messi. So if you want to make your body look like Messi, then follow these workouts and diet plan strictly and see the results.