Wants to know about Cristiano Ronaldo daily workouts & diet plan, then this article will help you a lot. Behind the creation of this superstar, not only football training is the reason but also various types of gym exercises & workouts with a perfect balanced diet. He is the player who is known not only for one of the best players, but also for a perfect athlete body. His physical look body helps him to play football with almost every part of body whether it is right or left foot, shoulder, chest, thigh & head. That's why he is called as a complete footballer.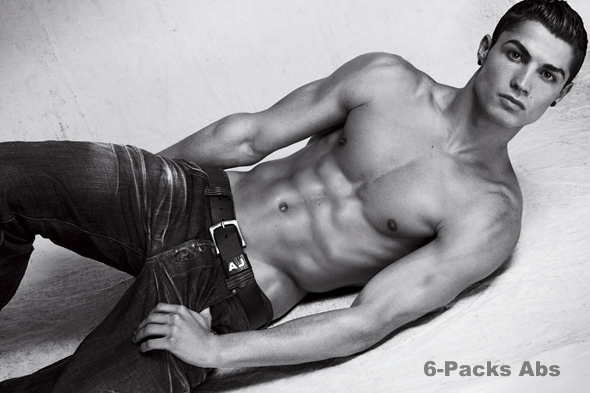 Cristiano Ronaldo Workouts & Exercises
Fat is the big problem for every player whether he is playing football or any other game. To control the level of fat in body, he practices about 3 to 4 hours daily. He preferred to go gym or sometimes when he gets free time form his buy schedule, he practice at training ground also.
If you wants to make your abs like CR7, then you level of fat in body should be lower than 10%. Exercise like strength training, dips can help you to maintain this level of fat. For improvement of core strength, planks & renegade will assists you.
For the flexibility & balance, you have to focus on the explosive nature of exercises that will assists you to burn fat at faster rate then normal rate. They will give you results better than ever before. CR7 use it for control on ball & improvement of skills
For maintaining the status of cardio, he runs for twenty five to thirty minutes. Daily that makes his body stretchable. You can do it in early morning for best results.
Ronaldo practiced for 5 days in a single week as admitted by Real Madrid training camp. As you have to take rest with your daily schedule. There is minimum requirement of 8 hours of sleep after daily exercise.

He is also fond of swimming which he does whenever he gets free time. After swimming he spent some of his time with his family which helps him to remain stress free after involving with his family members.

After that there should be minimum sleep of 8 hours for a whole day. Rest will help your body to grow at faster rate.
Diet plan of Ronaldo
Only gym exercises will not help you. There should be a proper balanced diet infrequent amount. It should not very heavy or very low. CR7 is very strict about his diet plan. He prefer to eat nutritious food & avoid heavy one. Given below is the list of his diet plan
BREAKFAST: In his breakfast he takes meals which contain proteins & carbohydrates. You can obtain these from cereals, juice, eggs etc. There should also a glass of milk in every morning as milk contains everything except Vitamin C.
LUNCH: His lunch consists of food which has vitamins, proteins & minerals. If you are following his diet plan then you should kept in mind that they should not be taken in very huge or very low amount. You can go for low calorie, vegetables, fruits etc.
DINNER: Dinner diet can be taken in big amount as compared to above 2 because after that you have to take rest. But admit it, this is highly recommended that it should be contained with fiber in rich amount. Eggs, Chicken, beans & fruits can be taken in this diet plan.
BEVERAGE: Beverages which contains milk, Orange or apple juice, a cup of tea are also advice able to you.
All you have to do to just follow these instruction & you get you body like Cristiano Ronaldo. If you think there are more exercises along with these, then you can mention it in comment box below.