Thomas Muller is Ger­man & the nation club Bay­ern Munich Attack­ing Foot­ball Play­er. He was born in 13 Septem­ber 1989 in Weil­heim, West Ger­many. Ger­many has dis­covered a new young tal­ent in name of Thomas Muller & at the age of 24, he is improv­ing his game at a very fast rate. Cur­rently, he is play­ing for Bay­ern Munich club which is the cham­pi­on of UEFA Cham­pi­ons league 2012–13 & was run­ner ups of 2011-12 sea­son. Here is the com­plete bio­graphy with awards & Hon­ors, Per­son­al Life & wife of Thomas Muller.
PLAYER PROFILE

Full name

Thomas Muller

Birth Date

13-11-1989

Birth Place

Weil­heim, West Ger­many

Cur­rent Club

Bay­ern Munich (Ger­many)

Jer­sey Num­ber

25

Seni­or Career

Years

Team

Apps & Goals

2008-09

Bay­ern Munich2


35, 16

2008*

Bay­ern Munich

160, 57

Nation­al Per­form­ance

2008

Ger­many U20

1, 1

2009-10

Ger­many U21

6, 1

2010*


Ger­many

55, 22

Thomas Muller Football Career
At the age of only 10 Muller joined Bay­ern Munich in loc­al Bundes­liga in the year of 2000. His club was the run­ner up of Under 19 Bundes­liga in 2007. Thomas improved his game very well & & played 32 games out of 38. In these matches, he scored 15 goals & with these goals he was in top 5 goal scorers.
It was 10-03-2009 when Muller played his first match of Cham­pi­ons League as a sub­sti­tute of Basti­an Sch­wein­steiger. His first match of UCL was a huge vic­tory over Sport­ing CP by 7–1. For Bay­ern Munich, he is also turned a lucky play­er as with this appear­ances Bay­ern has won lots of trophies.
Now it was turn of Seni­or clubs. Thomas signed 1st con­tract of Ger­man's top foot­ball club Bay­ern Munich with a 2 year deal. He was first signed on loan. But after arrival of new man­ager Louis Van Gaal, he was final­ized to play for club.
As usu­al, he played as a sub­sti­tute play­er for his new club & on 12-09-2013, just before a day of his birth­day, he scored 2 goals against one of the top Ger­man Foot­ball club Bor­us­sia Dortmund. Later, he again scored two goals against Mac­cabi Hafia. The month of his birth proved to be very luck for him & he was awar­ded with Bundes­liga play­er of the month.
For Bay­ern Munich, he scored 50 goals out of 146 appear­ances in seni­or career. He is also play­ing for his Ger­man Nation­al Foot­ball Team & scored 16 goals after play­ing 46 goals. Ger­man Legend Gerd Muller also praise him for his excel­lent per­form­ance in all com­pet­i­tion.
He scored his first World Cup goal against Aus­tralia in 2010 world cup. His goal was third goal of that match & Ger­many won this match by clean sheet of 4–0. He played all games in group & he was awar­ded with Golden Boot as well as Best Young Tal­ent Play­er of the tour­na­ment. In qual­i­fy­ing games of 2014 World cup, he scored first goal against Kaza­kh­stan.
Personal Life & Wife of Thomas Muller
Muller was grew up in nearby vil­lage of Pahl. This region was the cen­ter of media atten­tion because of exploits of World cup. Klaudia Muller & Ger­hard Muller are name of his par­ents. He also has one broth­er who is about 3 years young­er than Thomas. His broth­er name is Simon Muller.
Wife: His girl­friend name Lisa who to whom he got engaged in Decem­ber 2009. He mar­ried to his girl­friend & after 2 years of engage­ment, he became an ambas­sad­or of Young Wings. This is a char­ity that assists kids who are suf­fer­ing from trauma & bereave­ment.
Awards & Honors to Thomas Muller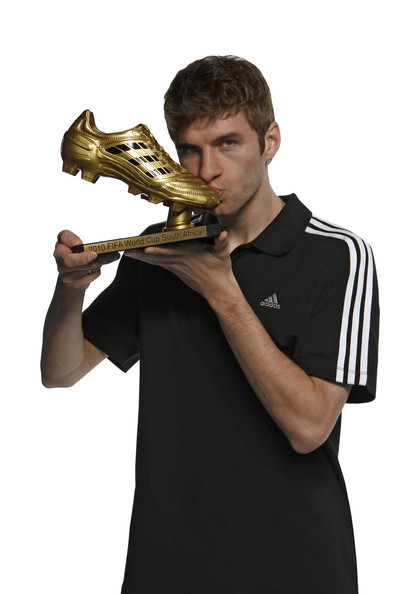 Club & Inter­na­tion­al Awards
Bundes­liga: 2009-10, 2012–13

DFB-Pokal: 2009-10, 2012–13

DFL-Super­cup: 2010, 2012

UEFA Cham­pi­ons League: 2012–13

UEFA Super Cup: 2013

FIFA World Cup Third Place: 2010.
Indi­vidu­al Awards
Bravo Award: 2010

FIFA World Cup Best Young Play­er: 2010

FIFA World Cup Golden Boot: 2010

Bay­erischer Sport­pre­is: 2010

Sil­bernes Lor­beerblatt: 2010

VdV New­comer of the year: 2010

World Soc­cer Young Play­er of the Year: 2010

FIFA Bal­lon D'or: Nom­in­ee (2010 15th Place, 2011 13th place)

UEFA Best Play­er in Europe: Nom­in­ee 2012–13

ESM Team of the Year: 2012–13