Nike has created & launched new collection of its Brand ambassador Cristiano Ronaldo. Nike continues to provide best football kits to Cristiano Ronaldo. The brand is also getting huge crowd of customers after signing him. With the launch of Nike Mercurial cleats, the sales of football cleats rose to a level which was never recorded ever before. So here are all stuffs of Cristiano Ronaldo New Collection of Nike.
Cristiano Ronaldo New collection of Nike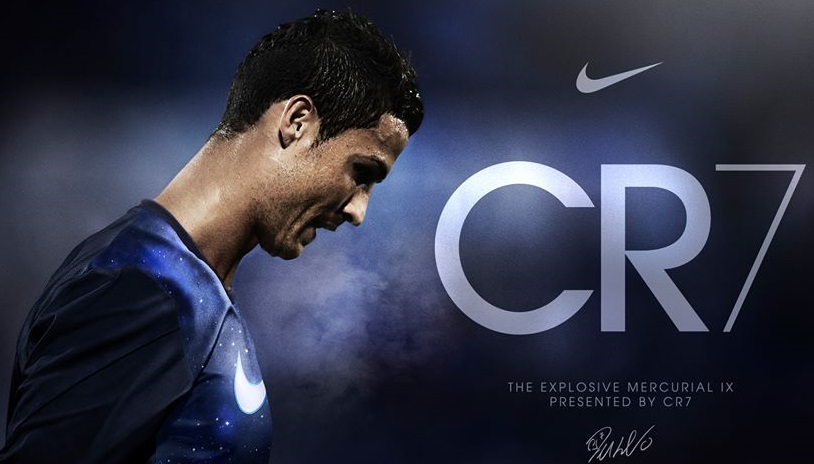 The collection consists of the all new Nike CR7 Mercurial Vapor 9 SG PRO, CR7 T‑shirt, Black shorts, Nike & Nike upper inner wear. Whole collection is collection give universe like design. In the year of 2010 Nike made a deal of £5million per year with Cristiano. Recently after extending his contract with Real Madrid, he is now world's highest paid footballer. With this deal, after paying all taxes, he will now earn £285,000 per week. Cleats: Nike CR7 Mercurial Vapor 9 is included in this collection. The cleats are designed with grip spikes which help to have a better control on speed. The combination of chassis & fiber helps to absorb the foot pressure. Jersey: A Dark Blue colored T‑shirt of universe design with added stars of universe is adding extra stars in this collection. Shorts: Shorts of black colored with blue colored Nike Slogan are also included. Both jerseys & shorts very designed very light in weight. The jersey evaporates sweat at much faster rate. Upper Innerwear: The inner t‑shirt is designed with 2 color combination i.e. Blue & Black. In whole collection these 2 colors are used as major colors. The deal of 5 years which was done in 2010 with Cristiano Ronaldo is going to expire in 2014 & hopefully new deal will be done successfully. It is expected that the Nike will make a new deal with Ronaldo which is calculated as £40Million in upcoming few months. You can collect this collection & know more about this collection from official site of Nike which is Store.Nike.com. Here are some wallpapers.