Also known as CR7, Cristiano Ronaldo is a real icon for millions of football fans. Apart from being Europe's top scorer, the Portuguese striker boasts an amazing body. This is all due to the special Ronaldo workout program, healthy diet, and fitness. Ronaldo has always been known for his mad fitness ethics. He sticks to discipline to become an overwhelming athlete with a slim shape. Hard team training is only a part of the daily Cristiano Ronaldo workout routine. He pays much attention to his diet and nutrition. He spends hours in the gym making his shape perfect. Could he ever strive for a slimmer body? Let's have a closer look at Ronaldo workout routine and diet plan.
CR7 Diet Plan and Nutrition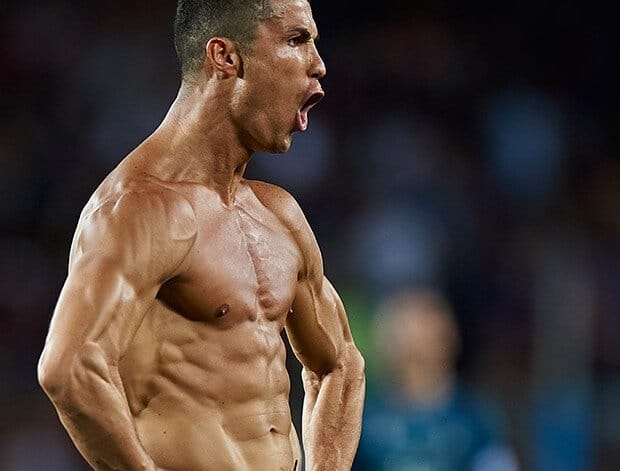 Healthy food is the key to a good shape. Eating healthy products is vital whenever you get involved in hard training. Ronaldo is aware of the fact that a healthy diet is the only way to may your training work out. For this reason, the A‑star player always follows some fundamental diet principles. They are as follows:
Frequency – the less you eat per meal the better. This is what Ronaldo does. He divides his diet plan into 6 smaller meals in every 2–3 hours. It is the best way to ensure effective metabolism and keep your body in a good shape.
Protein Diet – Sufficient protein is a must for players like Ronaldo. CR7 sticks to a diet that contains a huge quantity of lean meat that helps his muscles to repair after a hard training day.
Vitamins – recovery supplements usually include multi-vitamin nutrition as well as protein cocktails.
Fruits and vegetables – Fresh vegetables and fruits are full of ingredients Ronaldo needs for a fast recovery and effective workouts.
Cristiano body contains less than 10% fat. This is all due to the fact he rejects sugar in any kind. Ronaldo avoids bakery, cakes, and other desserts. An intensive workout program helps him burn fat at once. Another way to keep fit like Ronaldo is to avoid junk food. It is packed with sugar and fat. The same thing is with alcohol. CR7 has never been known for heavy drinking. He tries to steer clear from alcohol although it is not vital to have a glass of wine while having a dinner. The key to success is to track the body weight under control all the time.
Cristiano Ronaldo Meals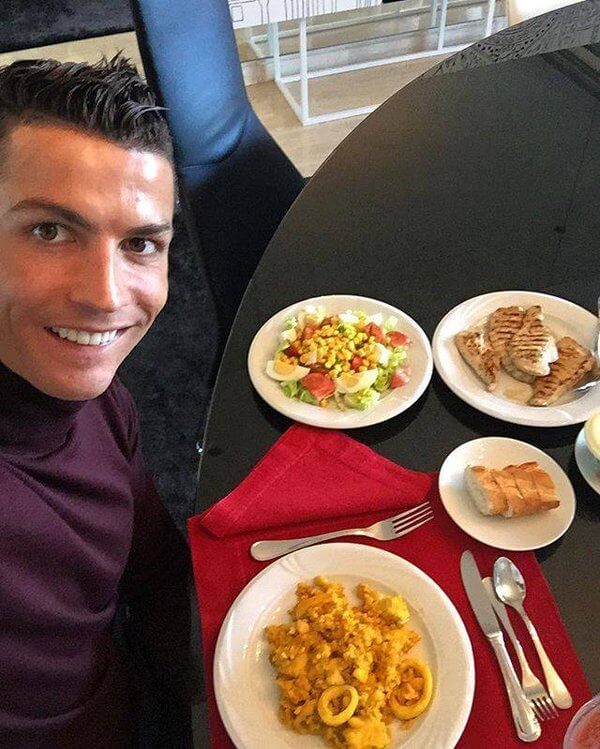 As it was mentioned before, Ronaldo divides his meals into 6 portions a day within every 2–3 hours. They include snacks and main courses of smaller sizes than average. The nutrition plan is divided into breakfast, lunch, dinner, and small snacks throughout the day. The meals typically include:
Eggs, milk, and fruits for breakfast;
Light pasta, Caesars salad, and veggies for lunch;
Chicken breast with green beans and rice for dinner;
Fruits for dessert.
While breakfast and lunch are mainly lighter courses, dinner comes as a more intensive nutrition with a variety of lean meat and fiber.
Cristiano Ronaldo Workout Plan
Every professional athlete follows a unique training plan designed for his or her physical conditions. Ronaldo is not an exception. He is surrounded by the pool of coaches, dieticians and fitness trainers to take the fullest from his workout plan to cover all muscle groups and parts of player's body. CR7 is well-known for his crazy approach and dedicated work in the gym. Have a look at his training plan:
3–4 hours of workouts to burn fat. His body must contain less than 10% of fat.
25–30 minutes of cardio training to ensure smooth heart work.
Short workouts and exercise of high intensity like sprinting drills, for example.
Technical skills and ball control exercise.
Tactic classes together with his teammates for a better understanding on the pitch.
Gym workouts and training focused around player's group of muscles.
The final part of Ronaldo workout plan is also aimed at increasing the overall body strength.
The Bottom Line
Cristiano Ronaldo has proved to be the player to admire. It is not only about his scoring skills and trophies won. It is also about his approach and attitude to football and training. He never stops developing his skills both on and outside the pitch. He pays much attention to his body and good shape making fitness specialists feel anxious about his muscles.