Cris­ti­ano Ron­ald is undoubtedly one of the most suc­cess­ful and tal­en­ted ath­letes around the globe. We have already provided tons of his scor­ing stats, win­ning track records, trophies, and titles numer­ous times. This time we are going to talk about Cris­ti­ano Ron­aldo fash­ion style and simple ways to look like one of the most expens­ive and at the same time trendy play­ers in the world.
CR7 has been spot­ted in dif­fer­ent fash­ion magazines and not only because everything was right with his out­fit. Some­times he just wore two little or did not fit the latest cloth­ing trends. How­ever, Ron­aldo is gen­er­ally very styl­ish while come con­sider them the fash­ion icon in the sports world. Let's have a closer look at Ron­aldo cloth­ing style and brands he prefers.
Cristiano Ronaldo Clothing Line
While being a Por­tuguese, Ron­aldo is used to wear­ing pretty little. The play­er is not used to liv­ing in severe winter con­di­tions. Even when he played for Manchester United, we try to stay cool and tried vari­ous lay­ers before find­ing the best bet to fit the chan­ging Brit­ish cli­mate.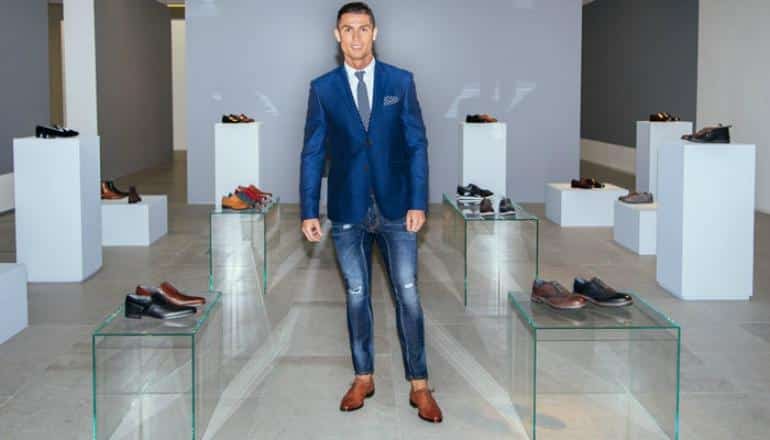 Luck­ily for the play­er and his fans, the days of play­ing in the UK are gone. His move to Real Mad­rid was quite a relief from a fash­ion point of view as well. Cris­ti­ano was back in his envir­on­ment with the best-match­ing cli­mate con­di­tions. Known for his true pas­sion for blazers, slim den­im and shoes; he is pretty good at com­bin­ing sev­er­al dress codes at the same time.
Ron­aldo leaned to cre­ate a so-called smart-cas­u­al look put­ting dif­fer­ent fash­ion trends togeth­er. Even form­al brown brogues may look great with a pair of blue jeans com­bined with a blue shirt and blazer.
The Italian Note
Ron­aldo made a sen­sa­tion­al trans­fer from Mad­rid to Juventus. Tur­in is loc­ated in the North of Italy and it is the busi­ness and polit­ic­al cen­ter of the coun­try. Moreover, we should con­sider the fact that Itali­ans always go wild with new fash­ion trends. Ron­aldo will have to fol­low them as well not to become a black ship.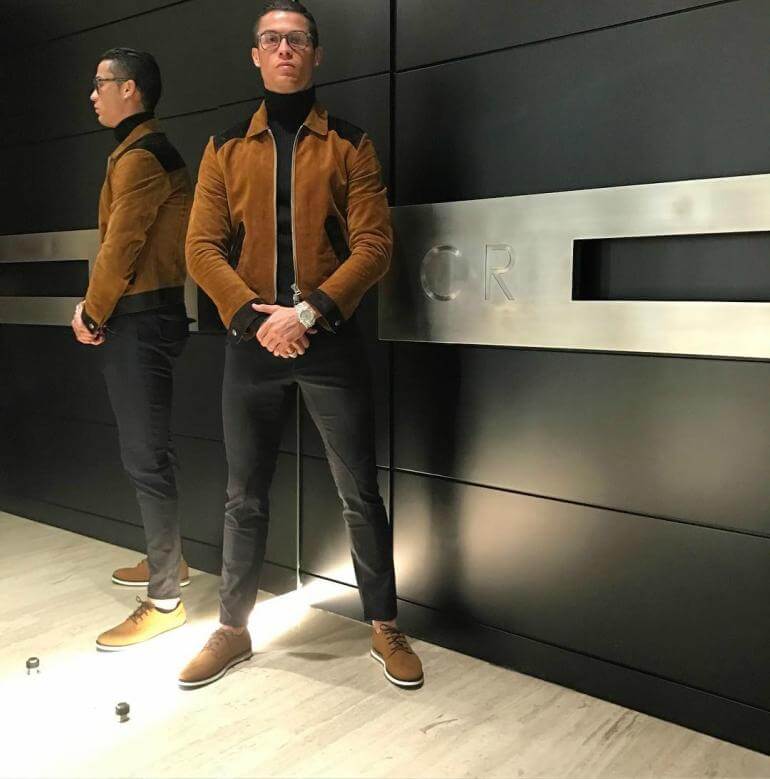 If the weath­er is nasty, Cris­ti­ano can mas­ter a couple of new lay­ers. Winter or autumn styles might be quite the same in Tur­in. The play­er only needs to put sev­er­al things togeth­er and focus on the key piece of the out­fit. For instance, a clas­sic bomber coat may cer­tainly work out with the black roll neck jump­er, slim leg black den­im, and styl­ish brown shoes.