The Brazilian winger Neymar spoke about today's most popular football rivalry of Messi and Ronaldo. The 23 year old footballer said his best friend Lionel Messi is better as compared to Real Madrid forward Cristiano Ronaldo. Neymar is enjoying his career at Barcelona, scoring goals and providing assists too. Despite winning 2 FIFA Ballon D'or awards, Neymar thinks Cristiano Ronaldo have not that class as Messi has.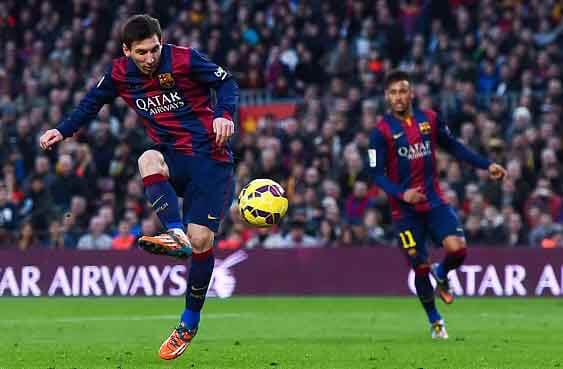 Neymar: Lionel Messi is better than Cristiano Ronaldo
During a trip to a Formula One testing circuit in Catalunya, Neymar told to reporters "Messi's the greatest footballer I've ever watched play. Along with Ronaldo, he is the best in the world, but Leo is my friend and — for me — he is the better of the two."
Not often we have special guests at testing but welcome @FCBarcelona @neymarjr to @WilliamsRacing pic.twitter.com/LwBsxL6sub — WILLIAMS RACING (@WilliamsRacing) February 20, 2015
This year's first month was great for the Catalans in which they scored too many goals, kept winning by clean sheets and minimized the gap between Real Madrid. Barca are now just one point behind top spot holders Real Madrid. Although lots of rumors were said about Messi's transfer from Camp Nou, but in the end, the Argentine Lionel Messi replied to those rumors as "All lies".
Neymar is confident of wining the domestic league La Liga and Champions League. He said "Hopefully we can win La Liga and the Champions League. We are trying to win it all.
On Saturday we have a very important challenge against Malaga, but we have all the components to win. We just focus on our football, not our opponent's football. We are happy at Barca that we got through that foggy period."
Neymar made a trip to the nearby race track as a guest of Massa's Williams. He posed for photographs that soon made their way on to twitter and was given a guided tour of the garages.
So far in this season of La Liga, Neymar have scored 17 goals that makes him the third highest goal scorer of La Liga season 2014–15. Barcelona are currently at second spot in La Liga 2014–15 having 56 points in first 23 games. They have won 18 games, lost three and played 2 draws.
Do you think Messi is better than Cristiano Ronaldo?