Footballers loves everything that links with speed and car is the thing which describes the best relation of a player and car. Today we are going to discuss about the top 10 footballer having the most expensive cars in the world. Football is the one of most expensive game in sports and football players are paid fabulous money to play at the global stage. Earning millions of dollars each year, many choose to spend their salary to buy dream car. Here are 10 of the best cars driven by our football players, have a look at this list in which top 10 most expensive cars of footballers are listed.
Top 10 Most Expensive Cars of Football Players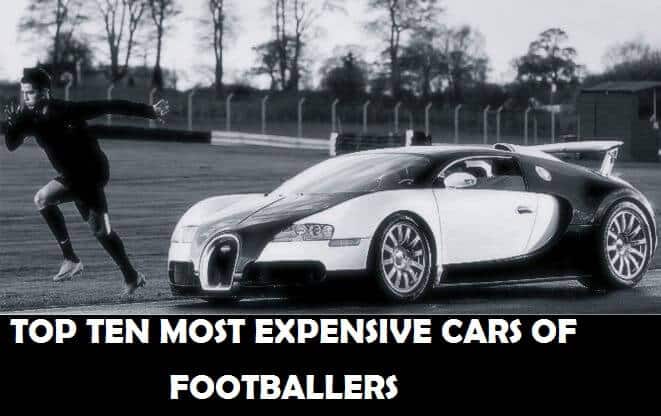 1. Cristiano Ronaldo driving Bugatti Veyron The world's currently best football player is driving the most expensive car. The Real Madrid forward Cristiano Ronaldo is at the top spot of owing world's costliest car. Having the most powerful engine of 16.4L, the approximate price of Bugatti Veyron is $2,250,000.
2. Tim Cahill, Lamborghini Gallardo
When you play for the New York Red Bulls, no car could be more appropriate than the Lamborghini Gallardo, a fire-breathing super car named after a breed of fighting bull.
3. Lionel Messi, Maserati GranTurismo MC Straddle
One of the finest footballer of the decade Lionel Messi's talent blends class and sheer raw ability in a similar manner to his Maserati. The Barcelona-based striker has a white example of Maserati's most focused car, a svelte coupe with sharp handling and a ferocious 4.7‑litre V8 engine.
Read also: Top 10 Most Expensive houses of Footballers
4. Cristiano Ronaldo, Lamborghini Aventador
As one of the world's most prominent players, it makes sense that Cristiano Ronaldo would drive one of the world's fastest cars. The Portuguese icon is often spotted behind the wheel of a Lamborghini Aventador capable of 350km/h. Ronaldo has several other cars for everyday use, including an Audi RS6 Avant with satin black paint to match his Lamborghini. Ronaldo is rumored to have ordered one of the world's most exclusive cars, Ferrari's La Ferrari hybrid.
5. Neymar, Porsche Panamera Turbo S
Brazilian number 10, Neymar da Silva Santos junior, Jis known for his explosive pace on the ball. The 22-year-old striker drives a 419kW Porsche Panamera capable of accelerating to 100km/h in just 3.8 seconds and on to a maximum speed of 310km/h.
6. David Villa, Porsche 911 Turbo
Spanish striker David Villa can be found behind the wheel of a black Porsche 911 Turbo when he isn't kicking goals for Atletico Madrid. The bearded wonder's black coupe is one of the most well-rounded super cars on the market.
7. Wayne Rooney, Range Rover Overfinch
British danger man Wayne Rooney has a supercharged SUV in the garage. Like many footballers, the Manchester United forward drives a fully loaded Range Rover fitted with a powerful V8 engine.
8. Mile Jedinak, Mercedes-Benz C63 AMG
Australia's captain on the pitch is a fan of red-blooded V8 grunt, and there are few V8s better than the 6.2‑litre unit built by Mercedes-Benz' tuning house AMG. The C63 AMG is a modern classic, and Jedinak's deep blue coupe features 336kW of power, more than enough to get to training on time.
9. Robin van Persie, Porsche Cayenne Turbo
Like his Manchester United colleague Wayne Rooney, Dutch hit man Robin van Persie chooses to ride in comfort with a luxury SUV. Van Persie's pick is the Porsche Cayenne Turbo, a heavy-hitting wagon with 405kW of grunt and sophisticated air-filled suspension that can be tailored to different environments.
10. Mario Balotelli, Ferrari F12
For Italian superstar Mario Balotelli, only a Ferrari would do. 'Super Mario' has been spotted scooting around Milan in a red Ferrari F12 Berlinetta — one of the fastest cars on sale today.
So the are the top 10 football players having the most expensive cars. Is your favourite footballer listed on this list?