Cristiano Ronaldo received one more trophy not because of his play but for his popularity on social networking site called as Facebook. CR7 is now the first ever athlete on Facebook to reach 100 millions fans worldwide. He also thanked his fans for Facebook award with video tribute. This new trophy of Ronaldo will be in Museu CR7. Follow Ronaldo on Facebook.
Cristiano Ronaldo Awarded with Facebook Trophy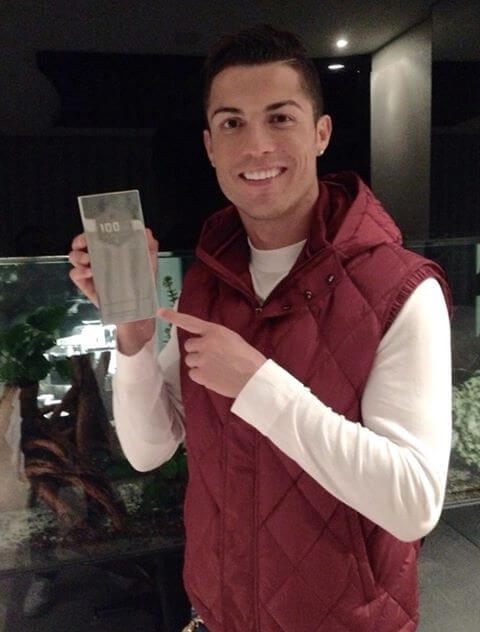 On 7 November 2014, Roanldo posted this photo on Facebook and replied with a thank you message.
The 29 year old Real Madrid winger is at his peak performance of his career. This year Ronaldo won most trophies as compared to his entire career. He won Copa del Rey, UEFA Champions League, UEFA Super Cup, FIFA Ballon D'or, best player in Europe and golden ball of last season's La Liga.
The two time FIFA player of the year is on a tear with 20 goals in La Liga and Champions League. He is now the most popular on Facebook & the first player to hit 9 figures on this social networking site. He also posted a thank you video after this milestone. He said:
"I'm so honored to have reached 100 million likes on Facebook. It's amazing to achieve this incredible milestone and connecting with all the fans around the world. Their outstanding support inspires me and I thank them all."
Also, Cristiano Ronaldo is the most followed athlete on Twitter with more than 30.5 million followers. He was the second highest paid athlete in the world between June 2013 and June 2014 with $80 million in pre tax earnings, including $52 million from salary and bonuses, as well as $28 million in endorsement income.