All fans of Cristiano Ronaldo knows that he loves football and also an extreme enthusiasts of cars. Now he is ready to buy new La Ferrari costing 1.3million American Dollars. The Real Madrid striker have huge range of Sports car including Audi Q7, BMW M6, Audi R8, Porsche 911. The list is not completed yet. Just read this & know about his fondness of cars. Company has recently designed it and Ronaldo just can't stop himself to buying it.
CR7 is buying La Ferrari
He wants nothing, but the unique. Ferrari has launched this sports car in limited edition & Ronaldo wants to become one of those who are are buying it. It is not just a car its much more. He has not just collection of cars also collection of garages. Right now he has total of about 20 cars.Very soon he will become the owner of this car

This deal can take him to top of list of car sports cars owners. May be it is not the most expensive that Cristiano ever purchased but it is the unique choice this football superstars. And definately, the Brand will also get huge marketing promotion after completion of this deal. So here are the details of this vehicle:-
Cristiano new La Ferrari car Features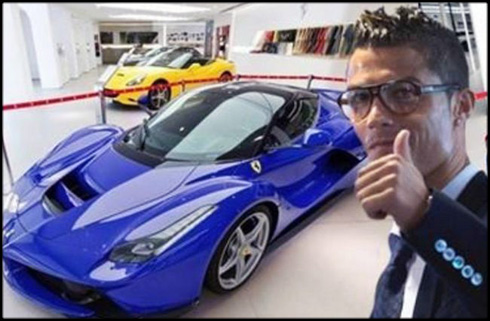 Performance
Maximum Speed

More than 350km/hr

0–100 km/hr

2.9secs.

Maximum poweer

963 CV

Max. Torque

more than 900Nm

CO2 Emission

330g/km

Gear-Box

7‑Speed

Front Suspension

Double wishbone

Rear Suspension

Multi-link

Dimensions
Length

4702mm

Width

1992mm

Height

1116mm

Wheelbase

2650mm

Tyres
Front

265/30 — 19″

Rear

345/30 — 20″

Electronic Controls

ESC: Stability control

High performance ABS/EBD

EF‑1 Trac: F1 Electronic traction control integrated

Year manufacture

2013

Price

$1.3 Million (US)
After completing three years contract with Real Madrid, the price issue will not make any trouble to him. Now he will earn 17-million Euros per year from that contract. As he is Brand Ambassador of NIKE, his deal with Nike is extended for next 5 years.
It is known that Cristiano is owner of many cars of this brand like 599GTBs, 599GTO & 575. With this buy his Ferrari collection will raise to 4. As we have already discussed that it is limited edition, so only 499 models are designed.
Engineers has designed it with extreme Engineering. Inside the car, there is a unique steering wheel. The gear-shift paddle is made long. Those who love to change gear will appreciate this design. headlights are made is cutting design and center of Gravity is kept as low as possible. This helps to cut air improves efficiency.
Here are wallpapers