The Manchester United and Argentina winger announced his new Manchester United 7 number tattoo on left arm
The most expensive transfer of British football, Angel Di Maria hinted that he is desperate to play for his current club. He has done his best to end any summer transfer speculation by getting the 7 number jersey that he wears at Manchester United. The Argentina attacking midfielder was signed by Man United from Real Madrid at record signing of 59.7 million British pounds.
This is the new tattoo of Angel Di Maria at his left hand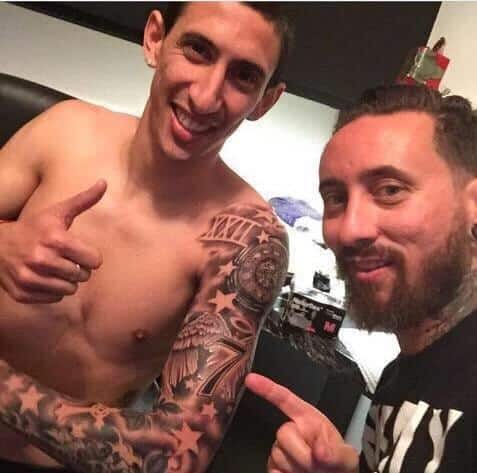 He thrived the early stages of his United career with dazzling displays capped by a number of vital goals. The winger, who starred in Real Madrid's tenth European Cup success last season before helping his national team to the final of 2014 FIFA World Cup, carried his form into the start of the Premier League campaign.
Di Maria has got a new #7 tattoo. I think that makes it certain he is going nowhere #mufc #nw — All For United (@allforunited) April 20, 2015
Not only number 7, some extra work has been done on his left hand. His hand is also featured with roman number XXII, stars and angel wings of angel. He has been linked with a more away from Old Trafford as a result, but speculation about his future could be squashed following his latest tattoo. This number 7 jersey of Manchester United was previously worn by Eric Cantona, David Beckham, Cristiano Ronaldo and now Angel Di Maria.
I guess Angel Di Maria is committed to the long run, here's his new No.7 Tattoo. pic.twitter.com/QsIizCnTMh — Manchester Utd Stats (@UtdNumbers) April 21, 2015
He was awarded with man of the match in the final of UEFA Champions League against Atletico Madrid last season year. For Manchester United, the former Real Madrid footballer have netted three times after playing 24 goals this season.