Forbes has confirmed that Cristiano Ronalod is now the World's highest paid footballer. Recently the superstar has extended its contract with Real Madrid for 2018. He is playing for the club which is also one of the most successful & valuable football club. The contract of $206 million was completed by the club with CR7.
Ronaldo has completed deal of $200 million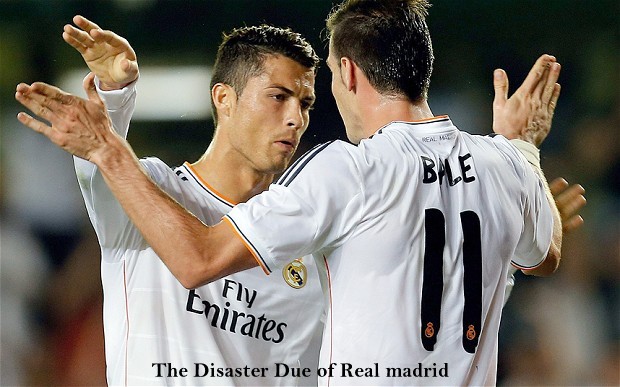 Forbes has made a survey on World's most costly brands & it was found that 2 brands Real Madrid & Cristiano are at the top position. The worth of Ronaldo's endorsement was calculated as $11million. This is because he is the Brand Ambassador of sports brand like Nike which is paying him a lot of money.
Goal has reported that Cristiano wanted to earn an annual income of $20 million/season when the contract with Real Madrid expires after the season of 2015. It was calculated that in last year the total income earned by this Portuguese was $44 million.
This contract is the most paid contract ever done by any of club in the history of football. Out of total income last year, half income was earned by some sports brands which include NIKE. Nike has paid $9 million to CR7. The sports brand wants to make a long deal with this athlete & also Cristiano is favorite of Nike.
Not only income the striker has earned a huge fame. Reports has found that he has highest fan followers with more that 6,00,000,000+ fans on Facebook. For any athlete, this is the highest number of fans following. He has beaten the star striker of Barcelona who is Lionel Messi in terms of earning & currently he is at 2nd position in top 10 football players of world. He has scored total of 206 goals after playing 204 games for his current team till now.
After completing contract, it was found that his earnings will get a boost & will increase to $67 million in just 2 years. He may become at the top position for several more years in terms of earnings. Real is just making a real deals with footballers as we have seen just 2 weeks ago, it paid $132 million to Gareth bale for transfer from Tottenham Hotspur to R. Madrid.
Real Madrid is at top position in earnings
One of the big reasons of paying this much amount to CR7 is that, having Cristiano in team the club gets more benefits. This Spanish club has increased its revenue of $100 million to $3.4 billion. This is the highest revenue ever paid by any of international club.
He has joined Real Madrid in year of 2009. By the time the club was able to qualify for last 3 Semi finals of UEFA Champions league. & after a dynamic against Galatasarary in Istanbul he scored one more goal hat-trick. That was the 21st hat-trick for Real Madrid. He has also made television revenue of 50% to his current team & other Spanish team Barcelona.
Madrid, square measure conscious of the importance of keeping Ronaldo it. The capital club omitted on Neymar recently, whereas they give the impression of being to be annoyed in their pursuit of Dortmund couple Ilkay Gundogan & parliamentarian Lewandowski.
Other previous transfer targets, like Aguero & Falcao, won't be incoming either, whereas Gareth Bale is dear & unwilling to force a move & Edinson Cavani is taken into account expensive by the capital of Spain board. The renewal of CR7, therefore, assumes even bigger importance.