After Andres Iniesta announced the end of his professional career, Lionel Messi not only inherited the captain's armband but also turned into a Barcelona and Argentinian team mascot. The previous season has brought new challenges and duties to the prodigious striker and newly-established team's official leader. Does it mean Lionel Messi salary will go up as well? What is Messi annual salary in 2019? The previous year appeared to be a great success from salary perspectives. The Argentinian football star has become the highest-paid player in Spain starting from November 2018. This is mainly due to his contract renewal up to 2021. Messi wage is very unlikely to do down even after the epic fail of the Argentinian international team at the FIFA World Cup 2018.
How Much Will Messi Get in a New Season?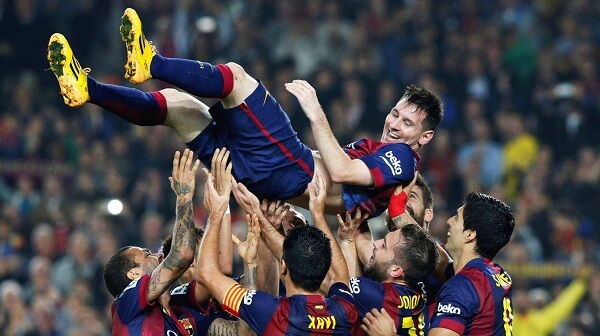 The new agreement with the club considers Messi weekly salary up to €565,000. It is hard to calculate the exact sum considering Spanish law legislation, taxes, fees, bonuses, etc. However, this rate puts him in the top and highest paid players in Europe including
Neymar
and
Cristiano Ronaldo
. Messi previous salary before signing the contract was approximately £336,000 a week, which is £164,000 lower if compared to his current wage. The new contract made Lionel a bit closer to his even higher paid rivals outside Europe such as Ezequiel Lavezzi and
Carlos Tevez
. Both left their top clubs and joined the Chinese football league. It is a well-known destination for football superstars craving for extra income before the retirement.
Are there any other Earnings for Messi?
Of course, there are. As well as many other famous players, Lionel has various sponsorship deals. A contract with Adidas appears to be another huge source of income over the last several years. The Argentinian is rumored to have a life-long sponsorship agreement with the globally recognized producer of sportswear.
Nothing is known about the exact terms and figures. However, they say Messi will get not less than $1 billion as well as CR7 for his sponsorship deal with Nike. At least, will always have a good financial background until the end of his professional career. We should also mention some other agreements that appeared to be a real bargain for Messi. They include sponsorship deals with Pepsi, Lays, Turkish Airlines, Gillette, and many more. They all estimate around $26 million annually.
Does Lionel Run Business of his own?
Football has always been the main passion for Messi. He did not even think of choosing another career while being a kid. Good news for his fans is that Lionel never indulges in a lavish lifestyle, scandals or gossips. The Argentinian is not quite a businessman. He does not have his own lines of sportswear or fragrances like Cristiano, for instance. He prefers a wiser investment. For this reason, Messi buys real estate and properties not just for his personal revenue but to help other people. Lionel has invested a huge some in Azahares del Parana project that involves the construction of gated communities in the place where he was born. For sure, he might have some other sources of income. However, he keeps them very private as another proof of his wisdom.