Emirates Airlines has introduced a new commercial ad in which football legends Pele & Cristiano Ronaldo are there. The Real Madrid star has done lots of advertisements, but this time he got opportunity to do so with Brazilian legend Pele. CR7 is appointed as a global brand ambassador of Emirates Airlines. The ad is specially created for FIFA World Cup 2014 which begins from 12 June this summer.
Ronaldo & Pele Brand Ambassador of Emirates Airlines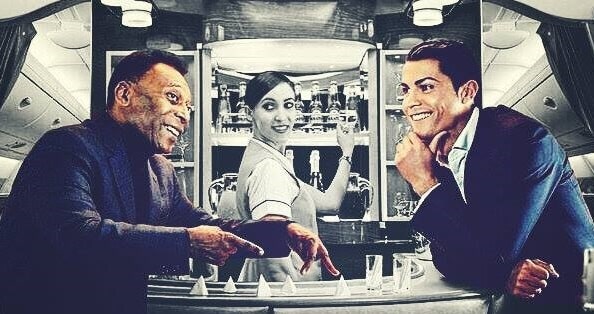 These 2 football magicians are now the official brand ambassador of Emirates Airlines. This airline world wide partner of football's governing body FIFA. So it will manage the flight schedule for upcoming Brazil world cup. In January, Emirates announced 3 times world cup winners Pele as their first global ambassador since the 2006 competition in Germany when Franz Beckenbauer was brought on board. He will play a vital role & why not as his nation is organizing this world cup for 2nd time in football history.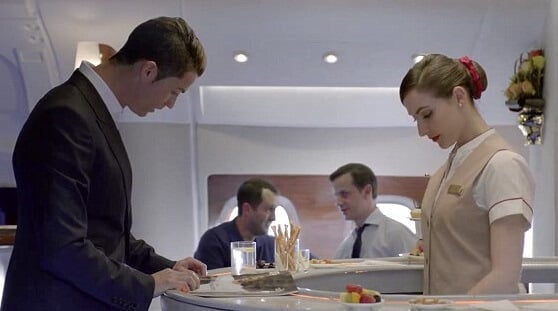 The new Emirates commercial ad will air in the run-up to the World Cup finals in Brazil, since the carrier serves Rio de Janerio and Sao Paulo. In this advertisement, Cristiano Ronaldo is flicking through the pages of a magazine in the A380 on board lounge and is delighted when two passengers start fawning over him. Watch the video of this new advertisement below. This video is titled as All time Great which is best suitable for these 2 football legends. Ronaldo does get the last laugh, however — although that said, Pele's laugh in this advert is nothing short of spectacular. Naturally, this ad would be loved by lots of football fans, specially of Ronaldo & Brazilian fans when they'll see these 2 giants together in an airplane.