The American based sport brand accessories Nike has launched its first ad campaign of FIFA World Cup 2014. Today, Nike has launched this video featuring two times Ballon D'or winner Cristiano Ronaldo, Wayne Rooney & the Brazilian growing star Neymar. The campaign is created by Wieden and Kennedy & is directed by Jonathan Glazer. Have a look on new ad of Nike Risk Everything.
Nike: Risk Everything Ad Campaign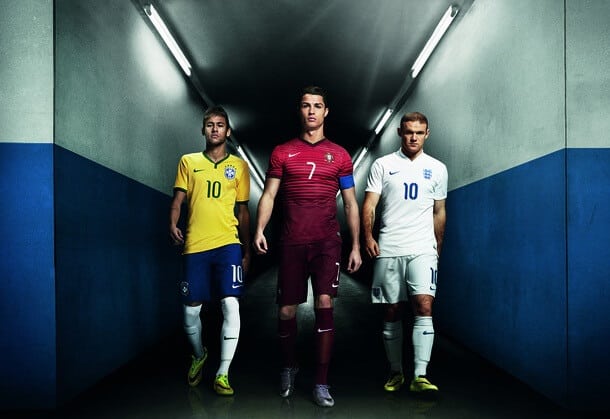 First ad of Nike for world cup is revealed whereas, Nike has yet to announce what else they've designed for summer world cup. The is featuring Ronaldo, Neymar & Wayne Rooney facing the pressure of world cup while going to world clash. Huge fan support with incredible sound & enormous pressure on each players added extra professionalism new ad campaign. Although Nike is not official sponsor of World Cup, but it has started preparation for world competition. Lots of action still to come by Nike but, it is cleared that the tournament is going to be at its best. Ad Creator: Wieden and Kennedy Ad Director: Jonathan Glazer
Ronaldo, Rooney & Neymar Nike Ad Video
Real Madrid star Cristiano Ronaldo is featuring in red Portugal uniform. The player has huge role behind Portugal world cup qualification who scored 4 times in play off round against Sweden. In this video, he is seen walking past supporters and pictures himself. Wayne Rooney is seen in a black suit as he prepares himself to leave a hotel room. He's listening to an excerpt of the voice of ITV pundit Lee Dixon, "I don't think anybody is more conscious of the fact that he is still to score on the biggest stage than Wayne himself". Last summer Confederation cup starer Neymar is also featuring in video starting from traveling in a bus. The trio of these 3 players come together in different tunnels for their respective games of world cup. In the end of video, there is a message which "PRESSURE SHAPES LEGENDS" looking attractive in video. Nike has created a short but an extraordinary advertisement.