If you are a football fan, then you are probably fond of playing football video games on your Android smartphones. But have you ever thought about which are the top 10 football video games for Android phones? Today, we are presenting a list which is featured with the top ten footabll games that you should try at least once to enjoy this world's most popular sport on your screen. So here we go.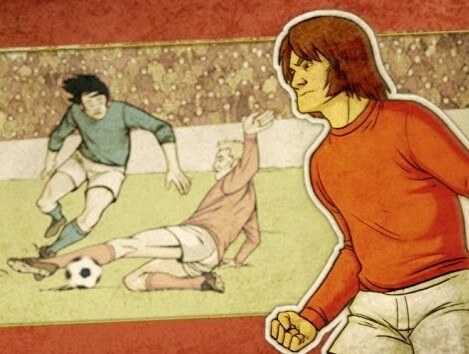 Top 10 Soccer Video Games for Android Phones
10 Football Free Kick [Soccer]
This game is very simple yet addictive. All you have to do is just kick the ball, score the goal and collect the points. Sounds looking easy, but you have to spend time to become master of this game. In this game, you will allow to score goal only via free kick. Time by time, you will learn how to curve the ball around the wall and the goal. You need lots of practice to score consecutive goals. One more thing, you can share your score or goals with your friends also.
| | |
| --- | --- |
| Football Free Kick | Rating 3.7 |
| Download this game | Size: 5.2MB |
9. Soccer Superstars Free
Developed by Game Evil INC, the Soccer Superstars Free is a cartoonist game which is jam packed with action and entertainment. This game is very popular among kids because of its graphics. A gamer can play this in five carious segments which are Exhibition, My League, Cup, Dramatic Mode and Of course season. To enjoy powerful game, you can buy or customize your any player. In order to win a particular competition or a cup, you have to develop your team.
8. Football Kicks
It would be not incorrect to say that the Football kicks is quite similar as compared to that Football Free Kick. There are total of six gaming modes in this eight most popular Football video game. These six modes are feared Sudden Death mode. cross the ball, Beat the goalie, Win the Euros, Beat the Clock and beat the wall. You will be shocked to notice that this application have more than 8 million users and the counting is still going on. It needs total space of 36MB in your Android smartphone. Given below are the further details of it.
Related: Best Football Video Games
7. Flick Kick Football Kickoff
Here comes another free Android football game with stunning graphics and brilliant locations. If you want to break boredom, then you should try the Flick Kick Football Kickoff game. The players are designed in cartoonist style. You can play this game in four modes which are Time attack mode, Bulls eye mode, practice mode and Arcade mode. By playing this game, you will find, simplicity does works.
6. Flick Shoot
It is yet another free kick kind of football game for the Android smartphones. Those who are tired of playing cartoonist games will love this one. The incredible graphics and high tech sound systems will take you to the new level of Football video gaming experience. Modes available in this game are Goal post targets, Time attack, Multi player, One Ball, Tournament and Arcade.
| | |
| --- | --- |
| Flick Shoot | Rating: 4.2 |
| Download this game | Size: Varies with device |
5. Dream League
This game lets you to build your dream league and the best team on the planet. You can also recruit some new players or you can customize your football ground with lots of available options. Smart defensive and attacking player AI form a challenging and addictive experience. With intuitive controls and excellent visuals. In short it is the perfect soccer package which captures the true essence of your favorite sport. So build your dream league now.
| | | |
| --- | --- | --- |
| Dream league | Rating: 4.4 | |
| Download this game | Size: 125MB | |
4. Real Football 2012
Feel the passion, feel the real Football with one of the best soccer video games today. In this game, you can join the community of your online Football friends and you can share your views and thoughts with them. Prepare your players with customizable kits. Create your own custom team jerseys, shorts and more using a detailed editor, then share it with the rest of the community or look for cool designs. So why wait more, just download it and enjoy it.
| | |
| --- | --- |
| Real Football 2012 | Rating: 4.4 |
| Download this game | Size: 468MB |
3. Real Football 2013
It is the successor of above mentioned game. The new version of 2012 is back with upgraded graphics sound system and lots of features. Take control of your team on the field during league games or cup games. Starting with a rookie team, you will need to improve your players abilities to reach the top league and compete against the best teams. It has more than 10 million users.
| | |
| --- | --- |
| Real Football 2013 | Ratings: 4.2 |
| Download this game | Size: Varies with device |
2. Top Eleven Be a Soccer Manager
So now we are now at the third best Football video game for Android devices. Soccer Manager is well known by a Soccer gamer because of its graphics, its creativity and features. The Top Elven Be a Soccer Manager lets you to play Cups, Leagues and other seasons and also allows you to take you team to top level. A player can also challenge Football managers of other team improve strength and other factors. All matches are live which could be watched with anyone.
1. FIFA 15 Ultimate Team
Here is the best Football Video game for your Android based smartphone. The FIFA 15 Ultimate Team is the game featured with more than ten thousand players from more than 500 licensed teams. There are more than 30 real leagues including Premier League, La Liga, Bundesliga, MLS etc and Football grounds are packed in it. One of biggest limitations of this game is that it requires 1.3GM of memory storage. But if you really want to enjoy the real video game of Football, then you will easily manage the memory storage of your phone.
| | |
| --- | --- |
| FIFA 15 Ultimate Team | Rating: 4.6 |
| Download this game | Size: 1.3GB |
Note: Almost all games are available for free. However some games are paid, so kindly check before downloading.
So these are the top 10 best Football Video games for Android based smartphones.