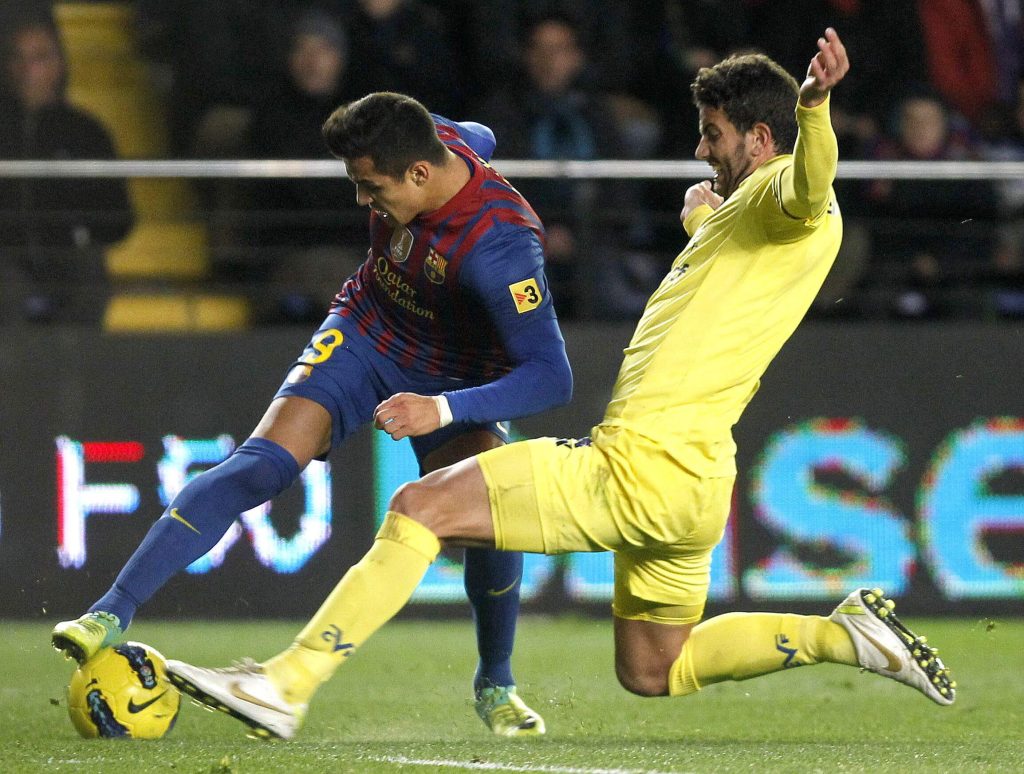 With the foot­ball that you play, or watch — that's all about strategy. It looks cool, but it's about win­ning. Then there's the oth­er kind, when right in the middle of a match a Ney­mar or a Ron­aldo will pulls off a trick that will see jaws drop, some amaz­ing man­oeuvre that takes the game to a whole new level.
Let's take a look at the his­tory of the foot­ball trick and the finest examples that his­tory has indeed giv­en us. Many coun­tries and their play­ers claim to have inven­ted dif­fer­ent foot­ball tricks. The scis­sor kick or "bicycle kick" could be described as just a way to score against the odds, but what an osten­ta­tious way to do it! The first time this was seem dur­ing a match is said to be in 1914, when Ramon Unzaga scored in Chile, and per­haps one of the clearest examples was undoubtedly by Ron­ald­inho. The best advice for those aspir­ing to learn it is to pre­tend you're in the Mat­rix about to dodge some bul­lets, and to begin by push­ing off your kick­ing foot.
Anoth­er trick that can be super effect­ive dur­ing play is the Rain­bow, where you flick the ball over your head and the head of the defend­er chal­len­ging you. It's risky, but looks stun­ning if it works. Jay-Jay Okocha, play­er for PSG and the Nigeri­an Nation­al team, among oth­ers, made the move pop­u­lar. The best advice here is that prac­tice makes per­fect!
There's no doubt that tricks like these have been part of pro­fes­sion­al and ama­teur foot­ball for most of the last two and a half cen­tur­ies. How­ever, the first play­er to have a move named after him is almost cer­tainly ex Real Mad­rid icon Fer­enc Puskas. The fash­ion escal­ated from there and now skilled moves and feints come as stand­ard. The logic­al evol­u­tion of all this inven­tion is Free­style Foot­ball, a sport made up entirely of the mas­tery of tricks and moves with pay­ers bat­tling on stage to do the most excit­ing moves with the ball. There are some great play­ers out there, not least Andrew Hende­r­son, win­ner of sev­er­al world cham­pi­on­ships with world rank­ing no. 1 and mas­ter of sev­er­al impress­ive tricks of his own. He and his oppon­ents are inspir­ing play­ers around the world to bring their skills to anoth­er level.
What if you don't feel like devot­ing your time to achiev­ing 108 "around the worlds" at one time (Hende­r­son again). The truth is that the most amaz­ing free­style work wouldn't wash on the pitch, right in the middle of a match. If you think about it, the heat of the match and com­pet­it­ive play that makes foot­ball so grip­ping doesn't allow for too many neck stops or exten­ded hot-step­pers. Foot­ball tricks are at their most thrill­ing when they are integ­rated into nor­mal play and make that play amaz­ing. So what's next? Frank Ribery of FC Bay­ern has reportedly inven­ted a new trick. For a play­er com­ing towards the end of his career, this inven­tion is clearly the cul­min­a­tion of years of prac­tice and of devel­op­ing his skills — so don't be so quick to throw in the tow­el if res­ults aren't forth­com­ing after a few weeks.
The his­tory of foot­ball tricks is com­plex; maybe it's always felt like a nat­ur­al thing to do, so no one kept a record. Who knows, even when guys in the Middle Ages ran around after a pig's blad­der, there must have been someone show­ing off. If so, there was someone else watch­ing from the side­lines, plan­ning their own next move.