Football as the name suggests, foot play the most important role of kicking & controlling of ball. Football boots are also called as cleats or football studs. Today, the role of Boots is so important that the team is not allowed to play without these boots. The development of these shoes took a very long time for the advancement in its design. Adidas, Nike and Puma are the leading brands of designing and promoting the shoes of football.
Football Shoes during the period of 19th Century
When it was the period of 19th Century, the game was most popular in the country like England. At that time, players' worn heavy boots which were consists of metal studs & long laces. At that time the weight of the football boots was about 1/2kg (500g) in dry & the weight gets doubled in wet condition. Leather was used for the manufacture of these shoes. When 2nd world war ends, it leads to the advancement of the these boots. More lighter & flexible boots were designed by the designers of the South America. They focused on designing a shoe which can help n better control on ball. Adolf was the 1st who introduced shoes with screws that can provide a better grip in the field. Later he was replaced by Rudolf Dassler (brother of Adolf). Rudolf is also the founder of Puma.
Design and Weight of the Football Boots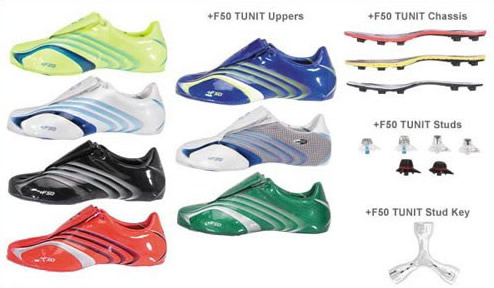 These boots are designed in such a way that they provide good protection to the player & compact control on ball. Different type boots are designed for various type surfaces. Like the surfaces which are hard, plastic or sneaker shoes are manufactured. Now days the boots are designed depending on the combination of power, control, speed, grip & touch of. Today, lots of changes are developed in football shoes. Not only design weight of boots matters a lot. Generally, the weight of the shoes range starts from 145 – 250gms. This is depend on the selection of the player what type of boot is perfect for him. High brand name companies like Nike, Adidas, Puma, are designing & providing shoes their teams.
Material used for the Manufacturing
The material which is widely used for making football boots is Kevlar. The main reason of choosing this is due to its good strength & better leather availability. The density of the material is also low which makes the boots light in weight. The material foam blowing polyurethane provides extra cushioning to the boot. For good elasticity, kangaroo leather is used.