You do not need to be a football fan to know who Neymar is. A world's famous Brazilian striker has become a real sensation over the last few years. He became the A‑list forward who took the challenge from such big names as Ronaldo and Messi. Despite his career highlights and stats, a few people actually know about Neymar age as well as some facts from his personal life and bio. Goal.com Although Neymar nationality is out of the question especially considering the last FIFA World Cup taking place in Russia, some still wonder much about Neymar background. How old is Neymar and where was the A‑list Brazilian footballer born? You will find all the detailed information in this particular article.
A Brief Neymar Jr Biography and Background
Like hundreds of other Brazilian players, Neymar started his football career on the street. The boy's future was clear right from the start taking into account the fact that his father was also a professional player and coach. A future sports star joined his first ever team at the age of 11. FC Santos was the first step in Neymar career letting him get to the youth program launched by Real Madrid. Neymar got a chance to join the program. However, a young prodigious striker decided to stay in Brazil with his family, friends, and teammates.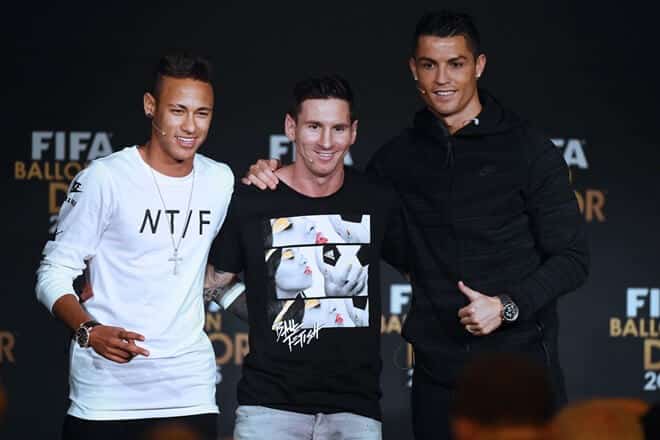 It looked like a wise decision for Neymar, as he was scoring plenty of goals while playing at Santos. As a result, some huge clubs like
FC Barcelona
spotted a football genius. A Brazilian striker played for Santos until 17 years old. In 2013, he signed a contract with Barcelona. It was a turning point in his career featuring endless lists of trophies, titles and prestigious awards. In 2017, Neymar left Barcelona for PSG where he plays today.
Neymar Jr Age and Childhood
Hailing from Sao Paolo (Mogi das Cruze's municipality), Neymar was born on February 5, 1992. Neymar Senior (his father) also played professional football and later turned into a trainer. Most of his time, Neymar played on the streets together with his pals. His family was not actually poor. The future star got a chance to play futsal and pick up some tricks and stunts from street football as well.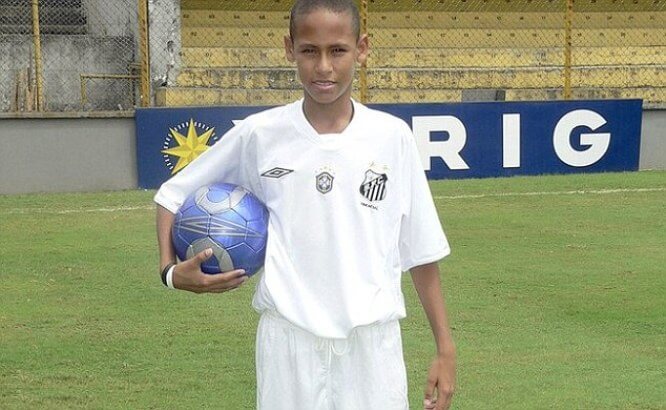 In 2003, Neymar left Sao Paolo for Sao Vicente where he represented Portuguesa Santista football team. That did not last long actually. The player was spotted by FC Santos scouts. At the age of 11, Neymar moved to his new team where he played most of his youth career until 17 years old and scored goal after goal.
Neymar Moves to FC Barcelona
The year 2013 appeared to be a turning point in Neymar's career. This was the year when a prodigious footballer signed a contract with FC Barcelona. He became the player of the starting lineup at once making a great impact on the overall Barca playing model. As the Brazilian international player, he got to the FIFA 2014 semifinal. The success was followed by a huge fail after the loss against the German team. Neymar was the main hope for the Brazilian fans during FIFA 2018 in Russia. However, the team did not manage to pass through Belgium in the quarterfinals. Brazil lost 2–1. The results appeared to be a huge frustration for Neymar as well as for the entire nation. The player tried to excuse and promised he would improve his play to take the fullest from every next tournament.