The Golden Boot is also called as Golden Shoe which is awarded to the player who scores maximum number of goals in FIFA World Cup tournament. The award was introduced in the first World cup of 1930 which was organized in 1930. Uruguay was the host of first FIFA World Cup. But have you ever wondered how many players are awarded with this award? To get answer of this question, read this article & you will get your answer.
FIFA World Cup Golden Boot History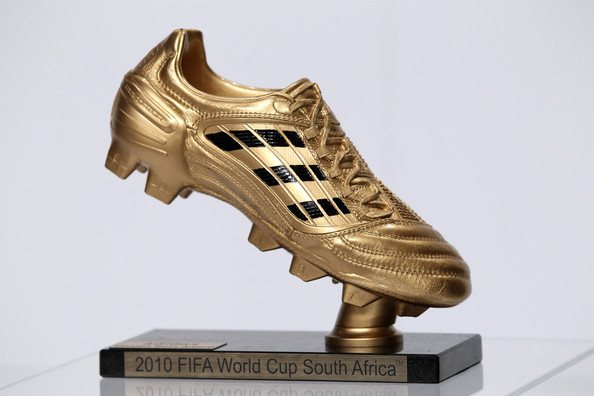 It was invented in 1930 Uruguay World Cup which was the first World tournament. That tournament was won by Home team & Argentina was the Runners-up. Uruguay defeated Argentina in the finals by 4–2 & Guillermo was awarded with Golden Boot for the first time. He scored total of 5 Goals.
Earlier it was given to the player who scores highest number of goals. But after in some world cup more players start scoring highest goals & the award was given to more than a player. It was the world Cup of 1962 which was organized in Chile, when 6 players were awarded with Golden Boot.
So the governing body FIFA decided to change the rule. They decided that, if more than one player scores same number of goals then the player with maximum assists will be awarded with this award. If still this happens again, then the player played minimum number of games will be declared winner of Golden Boot.
List of all Golden Boot Winners of FIFA World Cup
| | | | | |
| --- | --- | --- | --- | --- |
| Golden Boot Winner | Goals | Solver Boot Winner | Goals | FIFA World Cup |
| Guillermo Stabile | 8 | Pedro Cea | 5 | Uruguay 1930 |
| Oldrich Nejedly | 5 | Edmund Conen, Angelo Schiavio | 4 | Italy 1934 |
| Leonidas da Silva | 7 | Gyorgy Sarosi, Gyula Zsengeller, Silvio Piola | 5 | France 1938 |
| Ademir | 8 | Oscar Miguez | 5 | Brazil 1950 |
| Sandor Kocsis | 11 | Josef Hugi, Max Marlock, Erich Probst | 6 | Switzerland 1954 |
| Just Fontaine | 13 | Pele, Helmut Rahn | 6 | Sweden 1958 |
| Florian Albert, Valentin Ivanov, Garrincha, Vava, Drazan Jerkovic, Leonel Sanchez | 4 | Amarildo, Lajos Tichy, Milan Galic, Adolf Scherer | 3 | Chile 1962 |
| Eusebio | 9 | Helmut Haller | 6 | England 1966 |
| Gerd Muller | 10 | Jairzinho | 7 | Mexico 1970 |
| Grzegorz Lato | 7 | Andrzej Szarmach, Johan Neeskens | 5 | West Germany 1974 |
| Mario Kempes | 6 | Teofilo Cubillas, Rob Rensenbrink | 5 | Argentina 1978 |
| Paolo Rossi | 6 | Karl Heinz Rummenigge | 5 | Spain 1982 |
| Gary Lineker | 6 | Emilio Butragueno, Careca, Diego Maradona | 5 | Mexico 1986 |
| Salvatore Schillaci | 6 | Tomas Skuhravy | 5 | Italy 1990 |
| Oleg Salenko, Hristo Stoichkov | 6 | Jurgen Klinsmann, Kennet Andresson, Roberto Baggio, Romario | 5 | United States 1994 |
| Davor Suker | 6 | Gabriel Batistuta, Christian Vieri | 5 | France 1998 |
| Ronaldo | 8 | Miroslav Klose, Rivaldo | 5 | South Korea / Japan 2002 |
| Miroslav Klose | 5 | Hernan Crespo | 3 | Germany 2006 |
| Thomas Muller | 5 | David Villa | 5 | South Africa |
| James Rodriguez | 6 | Thomas Muller | 5 | World Cup 2014 Brazil |