Wembley stadium is a multipurpose football ground of London England. For the first time the stadium was opened in 9‑March-2007 about 6 years ago. It took 5 years for foundation of this project. Now it is the 7th highest audience capacity football ground all over the world & 1st in England followed by Old Trafford. One of the reason behind this project is to design a stadium with a capacity of about 1,00,000. Old Trafford was designed with this motive but due to shortage of area it was completed with 80,000. Later London had to organize Olympics of 2012 & The Venue of Legends done its word fabulously.
| | |
| --- | --- |
| Nickname | The Venue of Legends |
| Location | London, England |
| Construction cost | GBP 757 million |
| Opening date | 9-03-2007 |
| Type of Surface | Desso Grassmaster |
| Project manager | Symonds |
| Architect | Foster & Partners, HOK Sport |
| Operator | Wembley national Stadium Limited |
| Engineers | MacDonald, Sinclair Knigh & Merz |
| Capacity | 90,000 |
| Record attendence | 89,874 (Portsmouth Vs Cardiff City) |
| Dimensions | 105m X 68m |

Wembley Stadium History of Construction
Behind the creation of this multinational ground an interesting history is created. Whole team of this project completed this within one year costing £750,000. Engineers first dug 25,000 tons of clay to make its bowl shape. They terraces & stands were designed with 25,000 tons of concrete which was reinforced with 600 tons of steel rods. It is not just a football ground it is the symbol of English football & Twin towers which stood at entrance. On 28th of Aril 1923, first ever match was played in it between Bolton Wanderers & West ham United. The official attendance was counted as total of 1,26,047 which was highest than any match in England. Later it was calculated that total of 2,00,000 people entered. As we have discussed the nation got responsibility to host Olympics of 2012, almost all preparations were completed & still 2 years were left for Olympics. Once again, United States maintained at top position with 46 Gold, 29 Silver & 29 Bronze. Home team managed total of 65 medals with 29 Gold, 17 Silver & 19 Bronze medals. Finally Venue of Legends got first chance of hosting national football match. 1st match of England Vs Scotland was clashed on it & came to end with draw score of 1–1. It will host upcoming match of FIFA world Cup 2014 qualifier match of England Vs Montenegro to be played on 11-Oct-2013.
Events & Concerts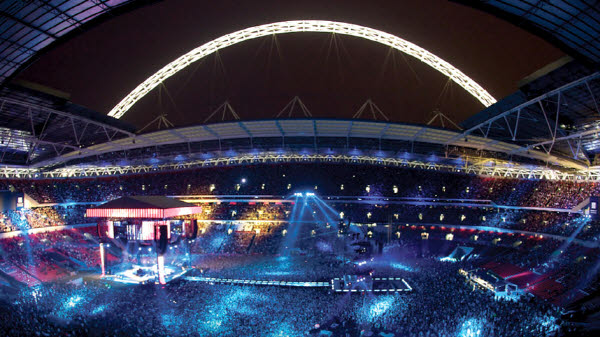 Other than Soccer, Wembley is also known for configuring major live shows & concerts. On 9‑June-2007, first concert was given by George Michael. First artist who scheduled on it was Bon Jovi. 1st band which sell their album in this stadium of England was Muse. They sold it on 16 & 17 June of 2007. The Arena also hosted Circus Live for four nights during summer season of 2009. That was the fastest selling tour ever in history of Great Britain. Acts like Foo Fighters, The Killers, Oasis, Madonna, Green Day, Coldplay & Take That were also performed on this Arena. One of the most popular songs of Indian Film Aashiqui 2, Sun Raha Hai Na Tu was shooted in this Arena. The song was second favorite choice after film's title track. Shootings of other Indian Bollywood film like Rockstar was also one of the part of its shooting location.
Structure of Arena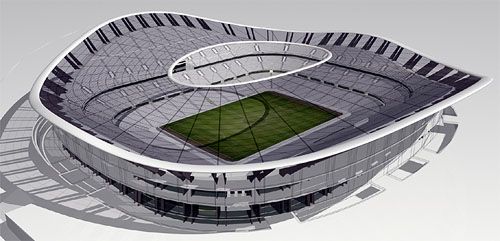 Total volume is 1,139,100 m3.
Total circumference = 1Kilometer.
Total length of escalators is 400m.
Roof area = 40,000 m2 (13,722 m2 is movable).
The pitch is 13 feet lower than that of last pitch.
There are fifty six km of heavy duty power cables.
Maximum workers during its construction = 3,500.
Size of pitch = 115yards in length & 75 yards in width.
4,000 separate Piles from foundations. Deepest of which is 35m.
Total toilets = 2,618 which is more than any other venue in world.
23,000 tonnes steel & 90,000 m3 of concrete used for its structure.
The Wembley Arena Arch has a cross sectional diameter which is greater than that of cross channel Eurostar train.