Here, fans of Mesut Ozil will find his complete biography with his Personal and career life right from his childhood. The Superstar has done a fabulous in Real Madrid & now he is also doing well in English club Arsenal. Before this club he made 105 appearances for The Vikings where he scored 19 goals & made countless assists due to which he is known
PLAYER PROFILE

Full name

Mesut Ozil

Birth date

15-Oct-1988

Birth place

Gelsenkirchen, West Germany

Playing position

Midfielder

Current Club

Arsenal

Jersey number

11

Club details

Team

Year

Apps. & Goals

Schalke 04

2006–2008

30, 0

Werder Bremen

2008–2010

71, 13

Real Madrid

2010–2013

105, 19

Arsenal

2013*

2, 0

National Career

Germany U19

2006–2007

11, 4

Germany U21

2007–2009

16, 5

Germany

2009*

49, 15
Childhood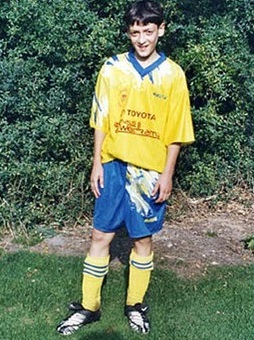 Mesut Ozil is a German footballer, who was born in Gelsenkirchen, West Germany on 15th of October, 1988. So far he has played football level at professional level for 4 clubs which are Schalke 04, Werder Bremen, Vikings & Currently for The Gunners. He is also player of his national team which is German National football team. Ozil's ancestors are from Deverk, Zonguldak, North-Western Turkey. He belongs from Turkish origin. At the age of just 6 years, Mesut begun playing football. Mesut had a brother whose name is Mutlu. His 2 younger sisters named Nese & Dugyu gave him love of brother & sister. In his family, every person love soccer. He practiced football at this age from Falke Gelsenkirchen club. It was that club who trained him. His 1st ever club was Rot Weiss Essen which he joined in year of 2000. At there, he played for 5 years.
Personal Life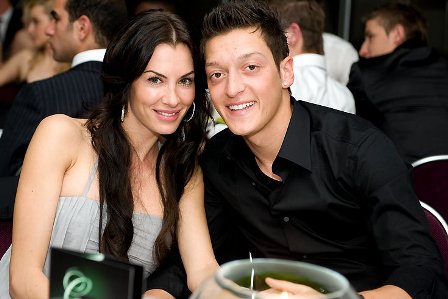 In his personal life, Mesut is regarded as a perfect Muslim, a religion that he follows. Like every Muslim he also follows Quran & whenever he got time from his busy schedule, he read it. He is known for enthusiastic Muslim. Before every match he recites for Quran. When he was talking to Berlin based daily, the football player said "I always do that before I go to match. All of my teammates do not talk to me when I'm praying because they know it." Later he realizes that he should take fasts according to Muslims religion. In starting days he took it but after some days it turned to more & more difficult as a player cannot spend his whole day without eating or drinking. For this topic he said "Due to my job, I can't follow Ramadan properly. I do it for few days, only when I have a free day. But other than that it is just impossible." He has to play so he takes fasts on the day when it is possible. It was year 2010 when Mesut was warded with Bambi award. It was given to him for being a successful integration with German society. Due to him religious & mankind nature, he got millions of fans who believe him blindly.
Football Career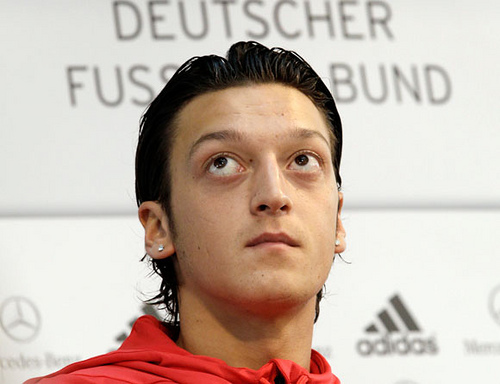 Schalke 04: his first international football club was Schalke 04. He joined it in 2005 as a midfielder. He made 30 appearances but was unable to score goal. He gave his 2 years of his life to this club of Germany & then moved to Werder Breman in 2008. Werder Bremen: After completing a deal of 4.3 million Euros, he moved to Werder Breman in the year of 2008. With his winning goal of 2009 DFB Pokal, his team made a victory over Bayer Leverkusen in Berlin. He also played the final of UEFA Cup against Shakhtar Donetsk. But in final match they faced loss Real Madrid: His 3rd club was Spanish club which is currently world's richest football club of this year. His dynamic performance of World cup 2010 attracted lots of eyes. The Vikings was all set to make new deal with this player. Ozil has clearly mentioned that "I was not in pressure leave Werder Bremen but Real is the club for which you can definitely say yes" The Whites bought him with 15 million Euros. When he the offer came for Real he simply said "honestly speaking you cannot refuse this club". At his new club, made 105 appearances and also scored 19 goals. But later Arsenal singed him for which he is currently playing. Arsenal: Recently, club manager Arsene Wenger made a new offered him new contract of 42.5 million pounds. The deal is fixed for 5 years. Due to this transfer he is now the most expensive German Footballer. His plus points: His make easy assists for forwards so that striker can easily collect ball. His control on ball is center of attraction. He can make a fantastic shoot from long distance & a trustable for kick taker. With ball on his feet he is unstoppable. In FIFA World Cup of 2010, he made highest number of assists for which he was awarded. He helped his national team to reach semi-finals but they lost to Spain by 4–1. In that tournament, they finished with 3rd place after beating Uruguay by 3–2. Minus points: One of his weaknesses is his physical strength which often observed during match. As we have discussed this may be due to fasts that he used to.
Club & Country Awards
Bundesliga: Runner Up 2006-07

DFB Ligapokal Runner UP: 2007

Werder Bremen: DFB Pokal: 2008-09, Runner Up: 2009-10

UEFA Cup Runner Up: 2008-09

UEFA European Under 21 Championship 2009
Individual Awards
Man of the match of UEFA European U‑21 Championship: 2009

2010 FIFA World Cup Most Assists
Man of the match of UEFA Euro 2012: Germany Vs Portugal & Germany Vs Greece

UEFA Euro team of tournament: 2012

UEFA team of the year: 2012