Ever wondered about the top 10 football movies of all time? There are so many inspirational football movies have been made but some movies which deserves to stand on the another platform. Few movies have made some positive effect in the people heart. For football lovers, we are sharing the top 10 football movies of all time. On the basis of ratings, critics and reviews, these football movies are included in the list of top 10 soccer movies. Check out the list below.
List of Top 10 Football Movies of All Time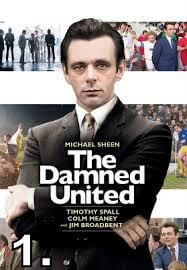 1) The Damned United Year: 2009 Director: Tom Hooper Writer: Peter Morgan Story: Leeds United, one of the most successful teams in England football. Brian Clough was named manager of that team. He was fired 44 days later after Leeds got off to its worst start in 20 years. He had replaced the legendary Don Revie who lefts Leeds to become manager of England national team. But failed to leave the impact, but later Clough had great success, re-established himself as a top-manager.
Read also:
Top 10 goal scorers in one year
2) Goal! The Dream Begins
Year: 2005 Director: Danny Cannon Writer: Mike Jefferies Story: Santiago harbors dreams of being a professional footballer. However, living in the Barrios section of Los Angeles, he thinks it is only a dream. One day an extraordinary turn of events has him trying out for Newcastle United. The movie was made under total budget of $33million and in return, it collected world wide collections of $156millions.
3) United
Year: 2011 Director: James Strong Writer: Chris Chibnall Story: It is based on the true story of Manchester United's legendary Busby Babes, the youngest side ever to win the Football League. United film shows you how a team was rebuilt into a dominant team after tragic incident of aircraft crash. They the most the deadliest incident during European Cup competition. To know more about this story, you must watch it instead of reading. The films draws on the inspirational story of a team and community overcoming terrible tragedy.
4) Goal II! Living the Dream
Year: 2007 Director: Jaume Collet-Serra Writer: Mike Jefferies, Adrian Butchart Story: The second series of Goal movie is at third spot in the list of top 10 football movies of all time. The story continues after first series in which Real Madrid offered a spot to the Newcastle United soccer star Santiago Munez who accepts the move accompanied by big money and fame. This tests his ties and loyalties to family, friends and business acquaintances.
5) Shaolin Soccer (2001)
Year: 2001 Director: Stephen Chow Writer: Stephen Chow, Kan-Cheung Story: Ordinary story with extraordinary special effects, the film earned not only money, but also fans and respect for King-fu. It is a great combination of Football and Kung-fu. A Shaolin kung-fu practitioner is seeking a way to spread the word about his chosen art. One day, he meets a down on his luck lame ex-football player who trains him and his five brothers. Director Stephen Chow is in the lead role who scores winning goal in injury time.
6) Zidane! A 21st Century Portrait
Year: 2006 Writer: Documentary Director: Douglas Gordon, Philippe Parreno Story: It is based on Legend Zinedine Zidane who took football to another level during his football career. A 91 minutes short film on Zidane describes the what he was at that time. It was released in French language in France and in English language in some other countries.
7) Victory
Year: 1981 Director: John Huston Writer: Yabo Yablonsky, Djordje Milcevic Story: John Huston directed Victory movie is at 7 spot in the list of top 10 football movies of all time. In World War II, a group of Nazi officers come up with a propaganda event in which an star Nazi team will play a team composed of Allied Prisoners of War in a Soccer game. The prisoners plans to escape on using the game from the camp.
8) Maradona
Year: 2008 Director: Emir Kusturica Writer: Documentary Story: It is based on documentary on Argentinean soccer star Diego Maradona, regarded as the world's greatest modern player by football fans. It is the film that will treat all the aspects of the life of Maradona.
9) The Class of 92
Year: 2013 Director: Benjamin Turner, Gabe Turner Writer: Documentary Story: The film covers the period from 1992–1999, mirror the highs and lows of Manchester United's European triumph and football odyssey with changes taking place in social and cultural in Britain. The Class of 92 detailing the rise of super stardom of six supremely talented young Manchester United footballers (David Beckham, Ryan Giggs, Nicky Butt, Phil, Gary Neville and Paul Scholes).
10) Dhan Dhana Dhan Goal
Year: 2007 Director: Vivek Agnihotri Writer: Rohit Malhotra Story: It is a story of struggling Southall club facing closure, where the manager takes his players to the home of the Premier League champions, Manchester United, to inspire them. John Abraham is in the lead role of male actor and Bipasha Basu is in lead role female actor.