The pre season schedule of Real Madrid is revealed for season 2014. The champions of Europe will play their first match against Italian club Inter Milan. Just before the start of new season, Real Madrid will play 6 games. So far three matches have has been confirmed to play. Given below is the pre season schedule of Real Madrid for 2014.
Real Madrid Pre Season 2014 Schedule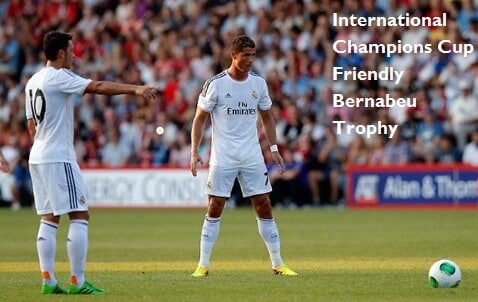 | | | | |
| --- | --- | --- | --- |
| Date | Tournament | Opponent | Venue |
| 26 Jul 2014 | International Champions Cup | Inter Milan | Berkeley, California, USA |
| 29 Jul 2014 | International Champions Cup | AS Roma | Dallas, Texas, USA |
| 02 Aug 2014 | International Champions Cup | Manchester United | Ann, Arbor, Michigan, USA |
| 16 Aug 2014 | Friendly | Fiorentina | Warsaw, Poland |
| TBD | Bernabeu Trophy | River Plate | Madrid, Spain |
Once again, Real Madrid will visit United States of America for International Champions Cup. Los Blancos will face Internazionale, Man United & AS Roma in USA. There are no confirmations about the appearance of Toni Kroos in first pre season match. But, it is expected that he might play against Sevilla FC in annual match of UEFA Super Cup. After all pre season matches, the champions of Champions league will meet Sevilla FC on 12th of August for UEFA Super Cup. Coach Carlo Ancelotti have wide option of selecting midfielders for new season of La Liga. The Italian manager is also looking to sign FIFA World Cup 2014 top goal scorer James Rodriguez for an incredible amount. James also showed his desire to play for Real Madrid. Ancelotti agreed to replace Angel Di Maria for James Rodriguez. The French club Paris Saint Germain took interest in Di Maria & agreed to to sign contract. The player had perfect last season along with decent World Cup tournament. Can Rodriguez fulfill the place of Angel di Maria in Ancelotti's squad. Looking on all transfer rumors, it is cleared that Ancelotti is looking to create a balanced squad before hitting La Liga & Champions League 2014–15.