Lionel Messi may arguably be the best footballer on the planet. We are able to provide you the all new tattoo on the most expensive left leg. Usually, Messi comes into news for football but this time Messi has came into news for his new tattoo. The Argentine soccer superstar Lionel Messi inked his famous left leg. The Barcelona star's girlfriend Antonella Roccuzzo posted a Lionel Messi new tattoo picture on the social networking site Instagram. Look at the Lionel Messi new tattoo.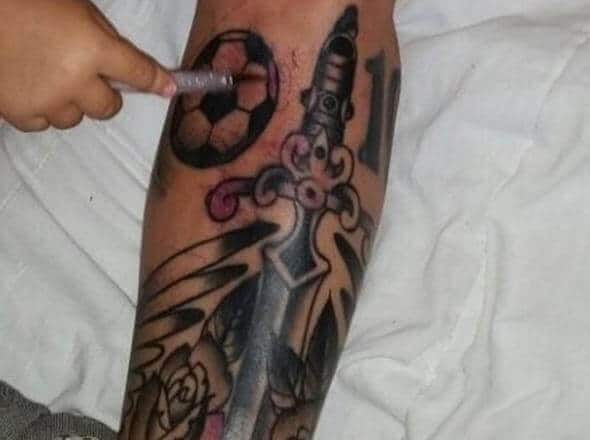 Lionel Messi new Tattoo on left leg
Barcelona striker girlfriend Antonella Roccuzzo unveiled a photo of Lionel Messi body art on her Instagram account with a picture showing their two year old son, Thiago, "finishing daddy's tattoo" by scribbling all over it with a pen. Before this tattoo, Messi printed hands of his son Thiago Messi on left leg. His leg is now designed with new tattoo with new graphics.
The 27 year old star has inked tattoo on his left leg. The tattoo features a basic design of a black and a white football. The tattoo is of a sword, surrounded by roses with a football on one side and Messi's famous "No 10" linked on the other. Some of saying that he has now got a contender for the worst tattoo in the world but it doesn't matter for the Barcelona legend.
Coincidentally Messi's new ink comes right in time for the Ballon d'Or award, which will take place in Zurich, Switzerland on January 12, 2012. The Barcelona forward is one of three candidates in the run of this prestigious prize, with Cristiano Ronaldo and Manuel Neuer.
Lionel Messi has scored 23 goals so far in the 22 La Liga and UEFA Champions League games. After designing this new tattoo, Messi will play his first match against Real Sociedad on fourth of Jan.