An Olympic medalist Kelly Sotherton summed up her frustration on her television because of Arsenal latest defeat at the hands of Barcelona at Emirates stadium. Being an Arsenal fan, it was difficult to accept the defeat. She also mentioned it on twitter explaining how much she was frustrated.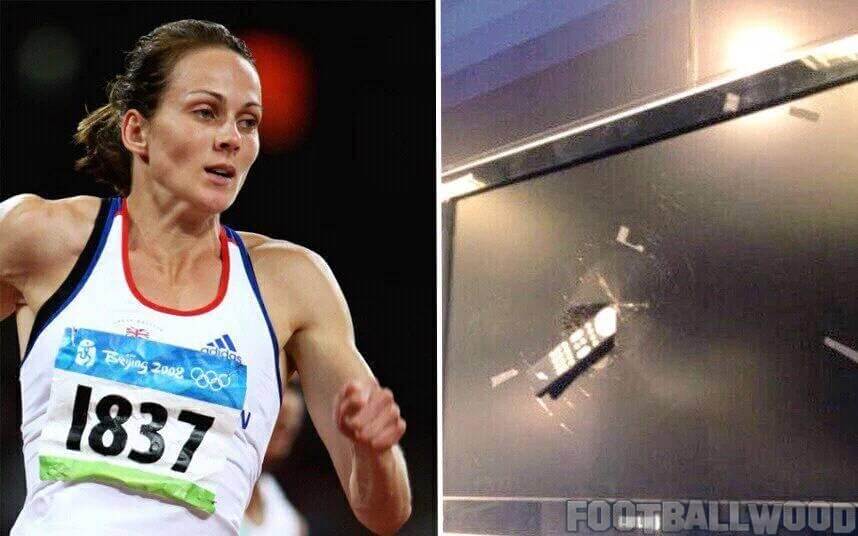 Kelly Sotherton Smashed Up Her TV Because Of Arsenal Defeat
The gunners welcomed defending European champions at their home ground. The home side played well in first seventy minutes, but later it went all bad for coach Arsene Wenger's squad.
Real Madrid vs Atletico Madrid telecast in India
Arsenal's hopes of reaching the quarter finals of the Champions League for the first time in six years were all but blown away after a clinical brace from Barcelona all time top goal scorer Lionel Messi. Arsenal played decent football with strong defence, but Barca eventually broke Arsenal's defence when Messi finished off a lightning break away goal. And when a defensive mix up between Per Mertesacker and Mathieu Flamini gave Messi the opportunity to put the tie to bed from the penalty spot, Kelly Sotherton finally cracked. She took remote and threw on the screen of television. The remote embedded on TV screen and she took a picture of the incident. Later on, she mentioned her frustration on Twitter with a tweet mentioned as
Just smashed up the TV #AFCvFCB

— Kelly Sotherton (@KellySotherton) February 23, 2016
Just watching the Arsenal with @KellySotherton and she lost it at the Penalty pic.twitter.com/T2irgryTZQ — Jamie Fox (@jamiefox1) February 23, 2016
The next meeting of Arsenal vs Barcelona will be held on 17th of March 2016 at home ground of Barca i.e. Camp Nou. Do you think Arsenal can still qualify for the quarter final round of UEFA Champions League 2015–16?