Everything you need to know about Messi retirement from Argentina: Football world was shocked yesterday when Messi, after Copa America Centenario 2016 defeat with Chile in final, announced retirement from international football. The decision was absolute shock to the football fans all around the world, which never in their wildest dreams imagined the best player in the world would take full-stop with his country, at his absolute peak of powers. Just a few days ago, he was entertaining the whole world, with his unworldly skills and magic, and now it means football will not see him put on an Argentinean shirt, ever again.
Why this bombshell from Messi?
Showing empathy towards Messi, the major factor to take this unusual decision, to make the most loved sport on the world depriving of its greatest star, is his complicated relation with Argentina. While the whole world marvels the joy Lionel Messi puts week and week out for his club and country, many Argentineans believe he should do more, for the nation. Their argument generates from the fact that the way Messi plays for Barcelona, he has not played for Argentina with same desire. They compare him to Maradona, their famous son who won them World Cup in 1986 playing a key role, and expect Leo to do the same; lead the country to a major trophy. Basically what they say is, either you do it or you're busted! Curiously, many Argentineans show more affection towards Tevez, whom they believe is more 'argentine' than Messi. Because, unlike Leo, he grew as a player in Argentina, played for first division club in Argentina before he moved to Europe, and he 'feels' for the national team jersey. These are the harsh criticisms Leo used to face every time he puts on an Argentina shirt. Let's put it this way; Messi has to carry a whole nation's expectation every time he plays for them. Winning only is not enough, they want him to deliver titles, and all of these expectations Messi has to carry without absolute love of his countrymen! It is outrageous that every time Argentina fails at a tournament, his own people blame him for not trying, while the football world sympathize him for being unlucky. As always, there is a fine line between success and failure, and that has also become true for Messi and Argentina's failure to win major titles. Maradona did not score in 1986 World Cup final, and although he did provide assist for the goal in final, someone had to put in it. Similarly, had Messi's striking partner Golzalo Higuain had not failed to convert the clear-cut chances presented to him, in all last three finals, Messi and Co. would have won some silverware, probably being the most decorated players in Argentina's history.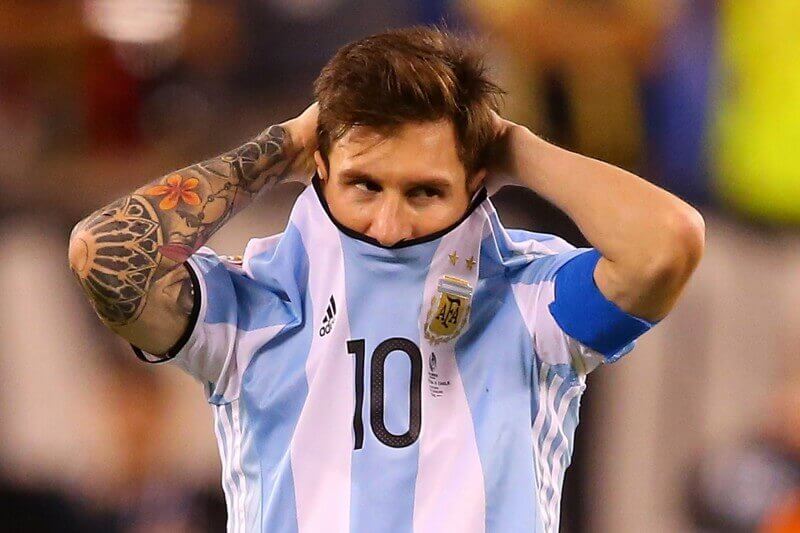 Is there any chance Messi renouncing his retirement
If there is anything that could bring Leo back from his fresh retirement, it is the affection of Argentineans toward him. Messi latest decision is not affected by personal glory, he has a lot of passion playing for his country and he wanted his people to acknowledge that. So far the decision has sent shockwave in the South American nation, and people have started campaign on social media for Messi, to come out of the retirement. Even the great Maradona has requested publicly to denounce his decision, and has said he will contact Messi personally. Argentinean president has, too, requested Messi to play for Argentina again, saying he is proud of this group of players. The only thing football fans are hoping that Messi decision was in the heat of moment, so once the pain of losing the latest final alleviates, he may rethink his decision and put on the famous no. '10' shirt once again.