The new football boots of Cristiano Ronaldo made by Nike are leaked. We got some leaked pictures of new boots of CR7 which are just manufactured by American based giant Nike. Now, these football boots are released but. The all new boots are simple, yet impressive in design & color combination. So have a look on new cleats of Nike. Earlier we have seen some leaked images of these boots & now these are available live.
New Nike Mercurial Vapor White/Gold Boots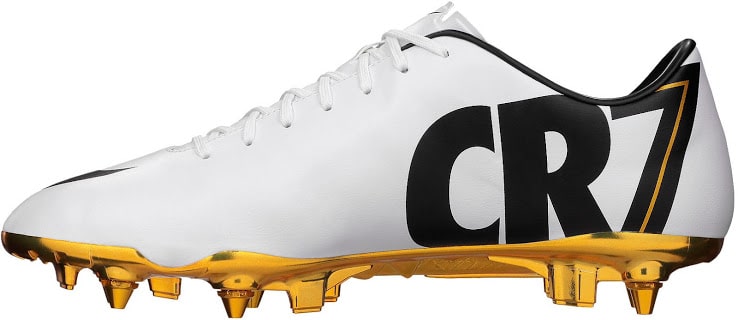 This time, Nike has introduced simple & tough shoes for Real Madrid star striker Cristiano Ronaldo. As the images are showing the nickname of Ronaldo on shoes, so it for sure that Ronaldo will wear these boots very soon. It is expected that he'll use these cleats during upcoming match of champions league against Borussia Dortmund at Signal Iduna Park. Right now, the Portuguese winger is injured & he'll miss the upcoming clash against Real Sociedad in La Liga competition. There are strong guesses about that new Nike Mercurial White and goal boots will be used by Ronaldo on 8 April 2014 giant clash.
Details of New Mercurial White Gold Boots
The boots are released only as Soft Ground version and are available limited to just 100 pairs. So if you are looking to buy these, they be prepared for it. Upper portion of these new cleats is mainly designed with classical black Nike Swoosh, the out sole features a stunning shiny gold color. On front of the shoe, trademark of Nike is designed in black appearance which ends at side centers. There are some words about the price of new Mercurial shoes. The bottom of shoe is designed with full golden appearance including color of spikes. It is expected that they'll be available at 310 USD [235Euros]. On sides of shoe, nickname of Ronaldo i.e. CR7 is printed in black appearance. CR7 likes the Teijin version of the Nike Mercurial Vapor IX Boot, the new gold Cristiano Ronaldo special edition 2014 boot comes with the upper material as the white reflective boot version unveiled in January 2014. layout of shoe laces is constructed within large area starting from top. In short, the new cleats designed by the kit supplier are looking simple & stylish which is enough to attract football lovers. be ready to buy them as these are available in limited edition with total of 100 pairs availability world wide.