After Ronaldo's break up with Irina Shayk, Cristiano Ronaldo is said currently dating with a TV reporter Lucia Villalon. Or you can say Ronaldo's has welcomed new romance in life. He has been linked to stunning TV reporter following confirmation of his split from Russian model Irina Shayk. We have got some pictures and images of Ronaldo's probably new girlfriend. So continue your reading to know more.
Lucia Villalon, the new girlfriend of Cristiano Ronaldo
The Spanish TV journalist also followed Cristiano Ronaldo's twitter account, along with those of his team mates Sergio Ramos, Toni Kroos, James Rodriguez and former Manchester United Javier Hernandez. She was also available in Getafe during Real Madrid's visit against their La Liga rivals. She also posted a photo with her two friends on twitter. Have a look on photo below.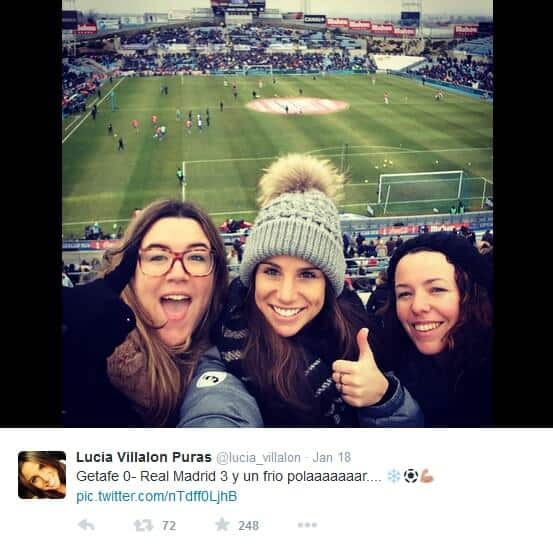 Few days ago, Ronaldo split up with Russian model Irina Shayk as the model didn't attend the 2014 FIFA Ballon D'or ceremony and his mother's birthday party. Irina also unfollowed the Real Madrid winger on Twitter.
After few days Ronaldo was spotted with a Real Madrid journalist Lucia Villalon. Regarding his supposed new girlfriend, Villalon used to work for television Espanola, and posted a photo on her social media after the Portuguese player won his third Ballon D'or. As of today, Villalon's twitter account is followed by 8736 users, and will surely have a major boost if the rumors have some truth in them.
Cristiano Ronaldo's fans who attacked Irina after it was revealed last week she and the footballer were history, gave their Lucia their blessing. The Spanish journalist also posted a photo on twitter featuring Ronaldo with his third Ballon D'or "Y ya van 3!! SIIIIIIIUU!!! Balón de Ore 2014! Enhorabuena! Zurich 12/01/2015."
Lucia who wasn't in work after attending Real Madrid's away win against Getafe on Sunday, couldn't be reached for comment. A fan said on twitter "Hopefully Cristiano's new girlfriend is Lucia Villalon. They make a perfect couple. Better than with Irina."