Vodafone Arena is a Multi purpose stadium & the location of stadium is Besiktas, Istanbul Turkey. There were some rumors about the stadium use & now it is called as a stadium which can be used for Multi-purposes. The Name of Vodafone Arena is The Eagle's Nest which is an all-seater stadium. The opening date of The Eagle's Nest is not revealed not far, however it is expected to be opened at the start of 2014–2015 season.
The Eagle's Nest
Location

Besiktas, Istanbul, Turkey

Owner

Besiktas J.K.

Operator

Besiktas J.K.

Capacity

41,903

Architect

Bunyamin Derman, DB Architects

Executives suites

144

Broke Ground

October 2013

Field Dimensions

105 m x 68 m [344 ft x 223 ft]
The Eagle's Nest History & Audience Capacity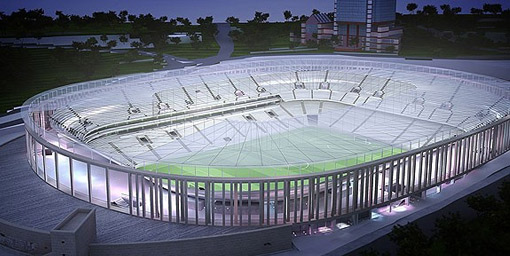 This is the first BJK Inonu stadium, originally named the Dolmabahce ground which was designed by Paolo Vietti-Voili. The stable of the Dolmabahce Palace was chosen as the location to build the stadium. For the Eagle's Nest stadium, the 1st foundation was laid on May 1939. Due to Second World War 1947, the construction was effected. Earlier it was planned to build with an audience capacity of 16,000 but The Eagle's Nest will have an audience capacity of 41,903. Don't Miss: Top 10 Football Stadium according to capacity
Capacity of The Eagle's Nest Stadium: 41,903
The oil factory which was found behind the stadium was demolished to construct the Yeni Acik tribune at the West part of the stadium in 1950. Yeni Acik was also covered with a separate roof structure in 2004. Galatasaray S.K. & Fenerbache S.K. have shared the stadium with Besiktas JK for many years, since the construction of the Ali Sami Yen Stadium, which is the home of the Galatasaray football club was completed in 1996. Sukru Saracoglu stadium, the home of Feerbache S.K. was renovated in 1982.
Facts about Vodafone Arena The Eagle's Nest
Capacity
Total Seats: 41,903

Number of Suits: 144

VIP Parking: 600
Construction
Bore pile used: 10,8 km

Anchorage: 28,5 km

Nails used at the base: 2,2 km

Basement Depth: 30 meters
Places Around The Eagle's Nest
Clock Tower
The Clock Tower is situated outside Dolmabahce Palace. This tower was manufactured by Sarkis Balyan, an America architect in between 1890 & 1895. Designed in Ottoman neo-baroque style, the 4 sided, 4 storey tower stands at the height of 27 m. In 1979, the original mechanical clock was converted partly to an electrical one. On 2 opposites sides of the tower, the tughra sultan Abdul Hamid 2 is there. Don't Miss: Salt Lake Stadium
Woody Road
From the Besiktas district, supporters & visitors approach the Vodafone Area through historical Dolmabahce street also called "Agacli Yol" in Turkish which becomes a ritual for several songs & cheers written at the time.
Dolmabahce Mosque
The Mosque is located in the south Dolmabahce Palace, on the coast. It was originally commissioned by the mother of Sultan Abdulmecid, Bezm‑i Alem Balide Sultan, but on her death it was completed in 1855, its architect is Garabet Balyan