Federation International de Football Association officially called FIFA is an international football association which is known for governing body of football all over the world. It organizes the world cup of football after4 years. This world cup is the most viewed tournament with about 715.1M of people in the finals of 2006 (Germany). Spain is the current champion followed by Netherlands (Runner-ups) & the Germany (3rd place).
History of FIFA World Cup
In the year 1904, FIFA was founded. At that time its main motive was to unite the nations to organize the football matches at international level. Football was become as official competition at the time of Summer Olympics of 1908. This World Cup was founded on 1930. FIFA was agreed to organize & also took the responsibility of the Olympic tournament which was called as world football championship in 1914. For the first world cup, some selected nation was selected to take part in this tournament & the first World Cup was organized in Uruguay. But some of them felt that going to Uruguay with a whole team is such a costly trip. None of the European country sent team 2 months before the start of World Cup. Then teams from Romania, Belgium, Yugoslavia & France were ready for the competition. 7 Nation from South America, 4 from Europe & 2 from North America took part in the first World cup of FIFA World Cup. Finally, in 13 July 1930, first match of the FIFA world cup was played in Uruguay. On that day, 2 matches were played. In first match, France defeat Mexico by 4–1 & then USA defeat Belgium by 3–0. Lucien Laurent a football player of France scored the first goal in first World Cup. In the finals, Uruguay & Argentina played against each other. The final was won by Uruguay & Argentina was beaten in the finals by 4–2. So the first FIFA world cup was won by Uruguay in its home.
Winners of FIFA World Cup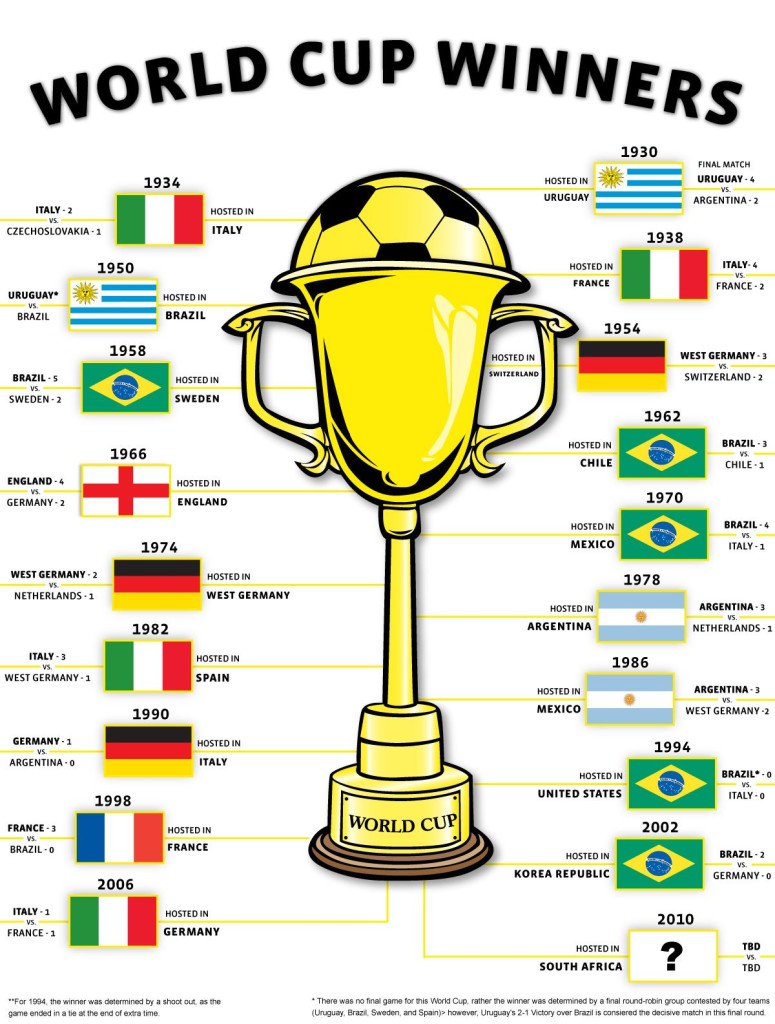 Currently, 8 teams have won this World cup & these are: Brazil (5 times), Italy (4 times), Germany (3 times), Argentina (2 times), Uruguay (2 times), France (1 time), England (1 time), Spain (1 time). There are some nations which reached the finals of World Cup of football but lost the finals & these are: Netherlands (3 times finalists), Czechoslovakia (2 times finalists), Hungary (2 times finalists), & Sweden (1 time finalists).
FIFA World Cup Winners Result
Year
Winners
Runner-up
Score
Host Country
Total teams

1930

Uruguay

Argentina

4–2

Uruguay

13

1934

Italy

Czechoslovakia

2–1

Italy

16

1938

Italy

Hungary

4–2

France

16/15

1950

Uruguay

Brazil

2–1

Brazil

16/13

1954

Germany

Hungary

3–2

Switzerland

16

1958

Brazil

Sweden

5–2

Sweden

16

1962

Brazil

Czechoslovakia

3–1

Chile

16

1966

England

Germany

4–2

England

16

1970

Brazil

Italy

4–1

Mexico

16

1974

Germany

Netherlands

2–1

Germany

16

1978

Argentina

Netherlands

3–1

Argentina

16

1982

Italy

Germany

3–1

Spain

24

1986

Argentina

Germany

3–2

Mexico

24

1990

Germany

Argentina

1–0

Italy

24

1994

Brazil

Italy

0–0 (3–2P)

USA

24

1998

France

Brazil

3–0

France

32

2002

Brazil

Germany

2–0

South Korea & Japan

32

2006

Italy

France

1–1 (5–3)

Germany

32

2010

Spain

Netherlands

1–0 (aet)

South Africa

32

2014

Germany

Argentina

1–0

Brazil

32
Awards in FIFA World Cup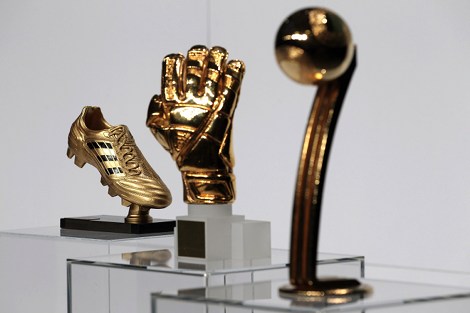 Golden Boot: It is also called as

Golden

Shoe. This award is given to the top goal scorer of the World Cup tournament. This award was first introduced in the year of 1982. Also the

Silver

boot is given to the 2nd top goal scorer & the Bronze boot awarded to 3rd top goal scorer.

Golden Ball:

This award is given to the best player of the tournament. It was also introduced in 1982. This is based on the votes of the media members. The players finishing 2nd & 3rd in vote counting gets Silver ball & Bronze ball respectively.
Golden Glove Award: The best goal keeper in the tournament is awarded d with this award. The trophy was 1st awarded in 1994.
FIFA Fair Play Award: This was introduced in 1978. FIFA has established this for fair play of the game. It given to whole team according to the points system made by FIFA.
Best Young Player Award: Founded in 2006. It is given to the player who is 21 or younger at start of the calendar.
Most Entertaining Team: First given in 1994. This is determined by the voting of people. The team which has entertained most is awarded with this trophy.