We are just few days away from the biggest football competition. From 12th June 2014, the points table of FIFA World Cup 2014 will start fluctuating. First 2 teams from every group of round of 32 will qualify for the next round which is round of 16 of pre quarter finals. Host nation Brazil is in Group A in which teams like Croatia, Mexico & Cameroon are also there. In round of group stage, group G is considered as Group of death of 2014 World Cup in which one of the strongest competitors of this competition are included. Check out the current points table standings of 2014 FIFA World Cup.
Points Table of FIFA World Cup 2014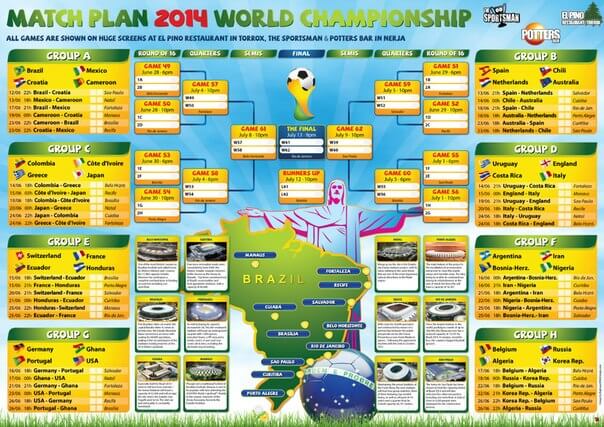 Check out the current points table & standings of Brazil 2014 FIFA World Cup.
Schedule of World Cup Matches
First round will be played between 32 teams which are categorized in 8 groups from A to H. Every team in each group will play a single match against the other team. In this way, every team will play three matches in group stage. Based on performance 3 points will be given for one win & 1 point for a draw. First 2 teams from each group will get ticket of next round.
First round starts from 12 June to 26 June. Total of 48 games will be played group stage. Thereafter round of 16 matches [pre quarter finals] will be played from 28 June to 1 July. First quarter final is scheduled to be played on 4 July 2014 & last on 5 July at 17:00. On 8th & 9th July each semi final will be played & on 12 July, final will be played at Estadio Maracana.