Cristiano Ronaldo Jr is the son of Real Madrid star Cristiano Ronaldo who is currently dating with Irina Shayk. Ronaldo & Irina are not married yet, but the Portuguese player is known as father who is known as CR Jr as his nickname. Some fans of Ronaldo thinks that CR Jr is baby of CR7 & Irina, but according to dailymail.com, it is stated that Jr is the son of Cristiano Ronaldo. Continue to read for full story.
Mother Cristiano Ronaldo Jr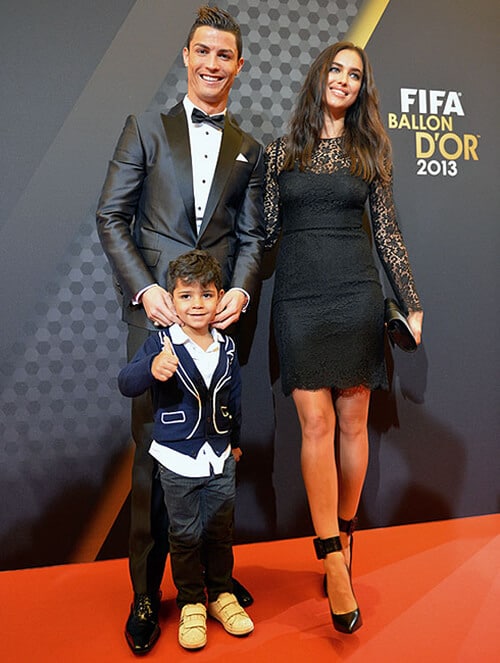 The
Real Madrid
winger became father of a boy as a result of one night stand with an American waitress. During the
world cup
of South Africa 2010, Ronaldo was on tour of this competition where he met a waitress at a restaurant of Los Angles. At restaurant, Ronaldo drew a love heart on a misted up window and said: "Me, you, kiss!". The waitress felt no problem with this offer of Ronaldo & she was agreed & slept with him at hotel. Later, the waitress become pregnant & she tracked Ronaldo through his agent Jorge Mendes, according to the Sunday Mirror. Ronaldo was agreed for DNA test which disclosed he is father of this baby. Ronaldo's friend told to the newspaper that "
They are a traditional Roman Catholic family and the minute paternity was established there was absolutely no doubt that Ronni would be doing the right thing
." Today,
Cristiano Ronaldo
is the highest paid footballer & he was also agreed to pay a sum of 10 million pounds to keep the secret & hand the baby over to his family. It was
3 July 2010
when
Ronaldo declared himself as father
of a son on some social networking sites Facebook & Twitter. He also said that the mother wanted to keep her identity confidential and said the boy would be under his 'exclusive guardianship'. His family later said the baby was called Cristiano Ronaldo Junior and had been born in the United States on 17 June 2010 weighing 9lb 8oz.
CR Jr Birthday
: 17 June, 2010
Birth Place
: United States
He was spotted on some tourist spots with his girlfriend & his son. During the award ceremony of
FIFA Ballon D'or
2013, he brought his girlfriend with CR Jr. He had tears in his eyes during collecting Ballon D'or trophy from Brazilian football legend Pele. His girlfriend Irina Shayk is a
Russia
model. Despite being mother of his son, she treats Jr as mother & their family is now known as a happy family. All football fans are waiting for new football legend who is inherited by the Portuguese legend, but still there is a long way to go.
Cristiano Ronaldo Jr Pics & Video Playing Football
Watch video of Sergio Aguero with his son & photos of CR Jr below. His son has overcome an interest in automobiles to replicate his father's football obsession, revealed CR7 on Spanish radio station Cadena COPE: "When he was two years old, he always like cars. Now he is mad for football, and is always like daddy, daddy, let's play". "I can't say no to him because my dream is to see him playing. He is already asked me for boots with studs, and striking the ball he's already very good. He surprised me, it makes me all emotional!" Like his strongest competitor Lionel, his son might face Benjamin Aguero, the son of Argentine player Sergio Aguero.