Earlier, we have talked about Bollywood Actresses & their favorite footballers. Now, we have another interesting article which is about male actors & their favorite football players. Bollywood is one of the leading film industry with world wide followers. Many actors spotted playing football during their free time. The craze of football World Cup is still not only among fans, but also among Bollywood heroes. Have a look on list of top Bollywood Actors & their favorite football players.
List of Bollywood Male Actors & their Favorite Footballers
1. Shahrukh Khan — David Beckham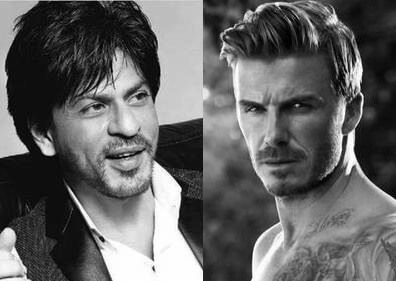 The king of Bollywood likes England & former Manchester United midfielder David Beckham most. Although Beckham is retired from his football career, but it does not effected his fan followers. Beckham played for one of the best football clubs which includes Manchester United, Real Madrid, Los Angles Galaxy, AC Milan, & Paris Saint Germain. he also played total of 115 international games for England national football team from 1996 to 2009. After playing 115 goals, Beckham scored 17 goals in all competition in international duty. Today, he is the fashion icon of England.
2. Ranbir Kapoor ‑Lionel Messi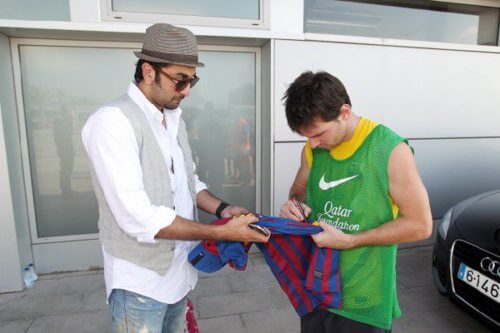 The Barcelona center forward Lionel Messi is the favorite football player of Ranbir Kapoor. He was seen wearing Barcelona's jersey on many occasions. Ranbir is so passionate about football that he owned an Indian Super League team of Mumbai with Bimal Parekh. The 4 times Ballon D'or Winner performed brilliantly in FIFA World Cup 2014 for which he was awarded with Golden ball. he scored 4 goals in that competition and made 1 assist also. But he couldn't save the defeat of Argentina against Germany in final match at Estadio Maracana.
3. Salman Khan — Robin Van Persie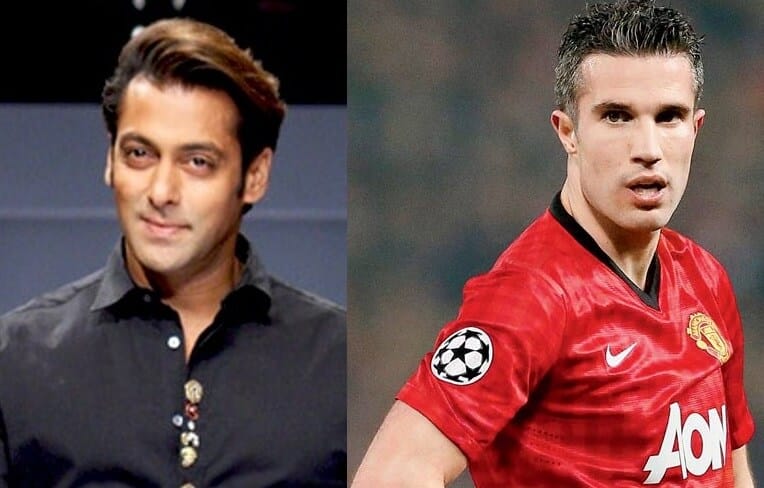 Salman Khan who is called as Dabangg of Indian film industry likes Netherlands captain Robin Van Persie most. In past few years, Sallu have tasted huge success with his back to back Super hit films which includes Dabangg series, Jai Ho etc. Now his fans are desperately waiting for his upcoming movie "Kick". Netherlands captain Robin Van Persie played a decent tournament of FIFA World Cup 2014. In very first game against Spain, he scored 2 goals for Dutch in which one was a perfect header goal. That goal was the second most best goal of the 20th Football World Cup.
4.

Hrithik Roshan — Cristiano Ronaldo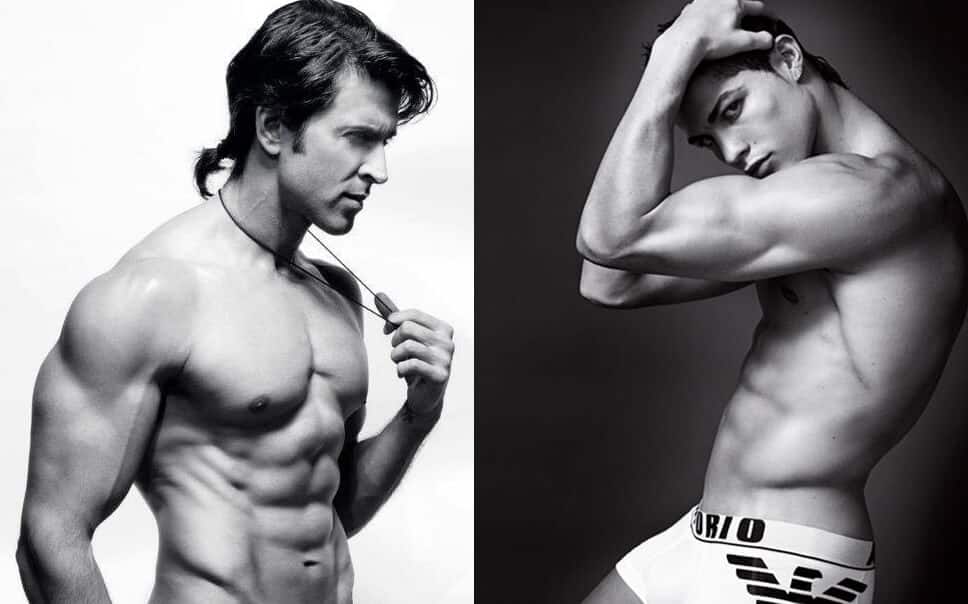 Here comes the most searched football player Cristiano Ronaldo. The Portuguese captain is the favorite of Indian Super Hero Hrithik Roshan. The son of Roshan family is giving back to back hits to Indian Box Office. He copies Ronaldo's moves when he plays with his friends. Cristiano Ronaldo won FIFA Ballon D'or award second time in 2014 for scoring 69 goals in one season. He played an impressive role in 2013–14 season & also helped his national team to qualify for the finals of World Cup 2014. He is also the top goal scorer of Portugal National Football team.
5. Farhan Akhtar — Mesut Ozil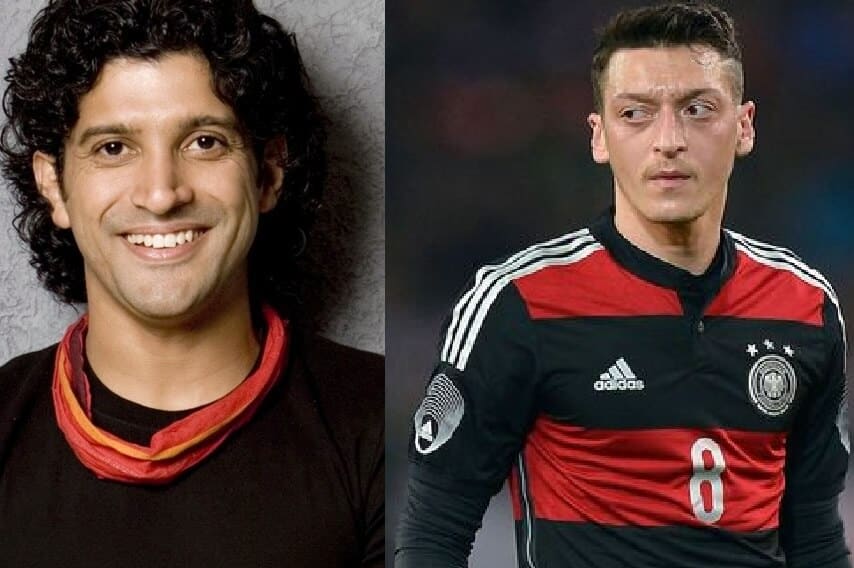 The all rounder of Bollywood finds Mesut Ozil as best football player. His first film was Dil Chahta Hai as a director. Farhan made debut in 2008 with blockbuster Rock On as an actor. He finds no problem in performing role of actor director or producer that's he is called all rounder of Indian Cinema. Mesut Ozil won FIFA World Cup 2014 with his national team defeating Argentina by 1–0 in final match. The only goal was scored by Mario Gotze who was brought in by coach Joachim low to replace Miroslav Klose. Mesut Ozil also won FA Cup in 2014 for his club Arsenal.
6. Aamir Khan — Ronaldinho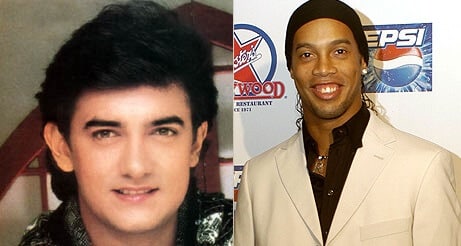 The Brazilian legend Ronaldinho is the favorite footballer of Mr. Perfectionist Amir Khan. Amir Khan's Dhoom 3 2013 is the biggest hit of Bollywood which was the first film to cross turn over of more than Rs.5.33 billion [US$88 million]. Ronaldinho is one considered as one of the best dribblers & best finishers. He won 5th FIFA World Cup for Brazil in the year of 2002 defeating current champions Germany. 3 years later he won Confederation Cup in 2005. Right now he is playing for Atletico Mineiro.
7. Aditya Roy Kapoor — Wayne Rooney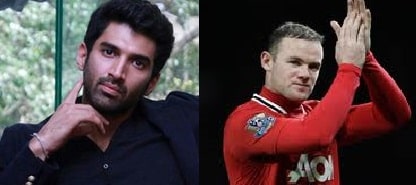 Aditya Roy Kapoor made debut in film industry with London Dreams in 2009. His favorite footballer is England forward Wayne Rooney. So far, Aditya worked in 7 Hindi movies which are London Dreams, Action Replay, Guzaarish, Aashiqui 2, Yeh Jawaani Hai Deewani, Assi Nabbe Poorey Sau & Daawat-e-Ish. His upcoming movie is Fitoor which is scheduled to be played in 2015. Wayne Rooney is currently playing for England's best club Manchester United. So far he played 307 games for this club & have scored 158 goals. In 2004 he was signed by Man United manager Sir Alex Ferguson.
8. John Abraham — Lionel Messi
The action hero & fond of bikes likes Argentina captain Lionel Messi most. John is the actor who loves everything which is related with football. He played lead role in Boman Irani's move "Goal". The film also got decent response from audience & they appreciated work of John Abraham. In 2007, John Abraham was awarded with Film-fare Award for best Supporting Actor for film Babul. He was also seen promoting FIFA World Cup of Brazil 2014. In 2008, he won Sexiest Asian Man & in 2012, he was awarded with Most Stylish Man according to GQ Awards [India].
9. Saif Ali Khan — Fernando Torres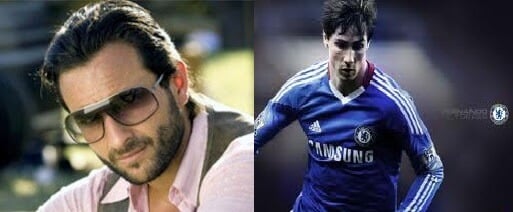 Saif Ali Khan is also known as Nawab of Bollywood who is fond of football. The Spanish & Chelsea forward Fernando Torres is the best player according to Saif Ali Khan. He is the husband of Bollywood diva Kareena Kapoor Khan. This couple have 2 children. Saif Ali Khan is brother of Soha Ali Khan & Saba Ali Khan. Fernando Torres is currently playing for English club Chelsea. He joined this club in the year of 2011. Torres is the only player in the history of football who won UEFA Champions League, UEFA Europa League, FIFA World Cup, UEFA EURO Cup & FIFA Confederation Cup.
10. Akshay Kumar — Ricardo Kaka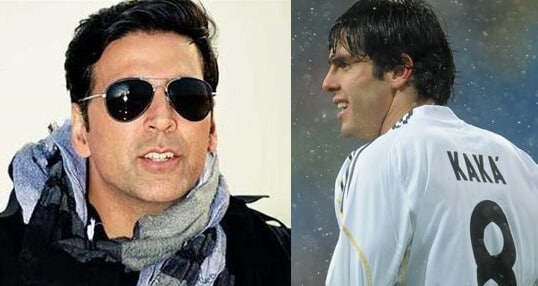 The Brazilian legend Ricardo Kaka is the favorite footballer of king of Action films Akshay Kumar. The 46 year old Bollywood actor loves to do action & comic scenes for which he is known for. He married to Twinkle Khanna in 2001 & have 2 children. He is called as Khiladi of Indian film industry. Ricardo Kaka is the player who won everything in his football career. He won FIFA World Cup in 2002, thereafter won FIFA Confederations Cup in 2005 & 2009. In 2007, he was awarded with FIFA World Cup player of the year award. Right now, he is playing for Brazilian club Sao Paulo on loan.