South Korea & Nike has launched new kit for FIFA World Cup 2014 which is begging from 12 June 2014. Both home as well as away kits are released by the kit supplier Nike which will be used in upcoming football world tournament. The national team is now preparing for their group stage games of world cup finals. Their rivals of round of 32 are Belgium, Russia & Algeria. So have a look on new kit of South Korea for 2014 FIFA World Cup.
South Korea 2014 World Cup Home Kit Uniform
Home Jersey: The all new home uniform kit of South Korea is designed with red as main color with some blue colored appearances. With unique & simple elements, the new kit is specially manufactured with simple straight collar & blue stripes on the sleeves. The red collar features thin blue colored lining also. At the front, logo of national team is designed on left chest whereas logo of kit supplier is designed with white appearance. Below shoulders, single wide vertical stripes are also there which starts from top of shoulder. At the front, jersey number is written in white color which is also available at the back of it. On side of jersey, there are small V‑shaped holes provided for the evaporation of sweat.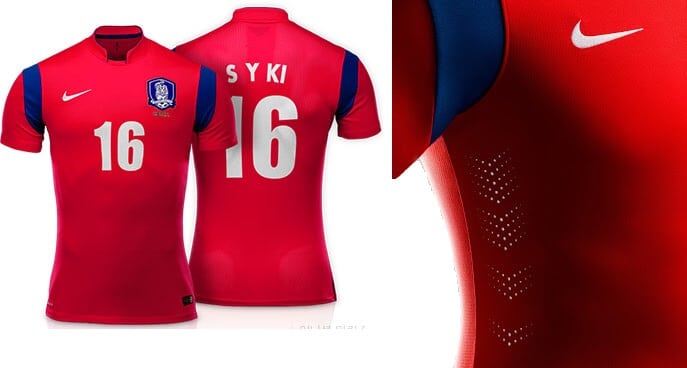 Shorts & Socks: Home shorts are mainly designed with blue as major color. Simple home shorts are constructed on which national team logo is available on bottom of right leg. On left leg, logo of Nike is there with jersey number. The Socks are also in red appearance with some white elements like trademark of kit supplier which is white in appearance.
New Away Kit of South Korea for 2014 World Cup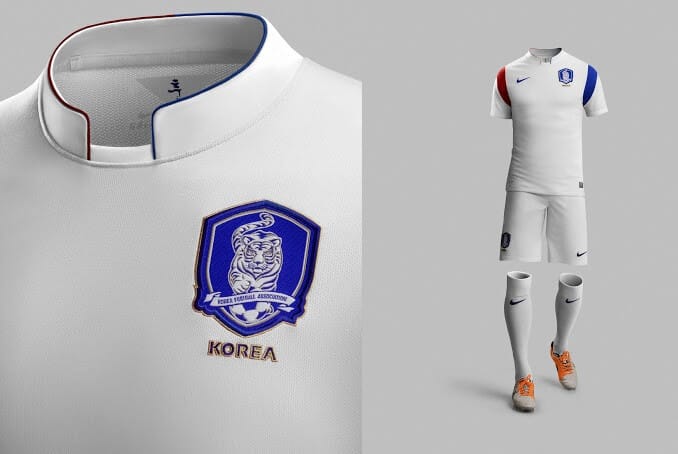 Away Jersey: there is only color difference in away kit as compared to home kit.red is replaced by white & white is replaced with black color. Away jersey is in white with red & blue color appearances. Team & Nike logo are on same spot but in blue color. Jersey number is also written on same position. Shorts & Socks: We have seen home shorts in blue color which is now replaced by white. Logos of South Korean Football team & that of Nike are in blue color. Socks are also of white color with blue applications. In short, Nike has designed simple & impressive kit for South Korea which. Now the players of this team will be appear in new uniform in world cup. These kits are also available for purchase. So go for it & support you team.