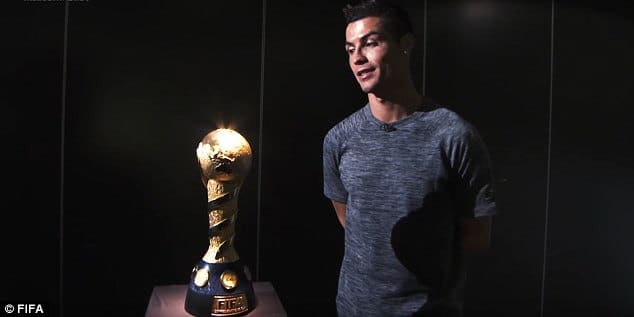 After leading Portugal's team to first place during the 2016 European Championships, Cristiano Ronaldo has already decided on his next dream for the champion team; the 2017 Confederations Cup.
In an interview with FIFA, Ronaldo claims that achieving victory in Russia's Confederations Cup would be an incredible feat for Portugal. He compared winning the championship with Portugal's historic first time bringing the UEFA trophy home in 2016.
"I hope Portugal is lucky enough to win yet another trophy for the first time in history. It would be beautiful."
Come June this year, champion teams of the most highly recognized football leagues and tournaments will compete in a battle for the Confederations Cup trophy. Winners of regional and global competitions will be pitted against each other in four different arenas across Russia and the list of this year's participants are as follows:
RUSSIA: Hosts
GERMANY: FIFA World Cup
PORTUGAL: UEFA European Cup
CHILE: Copa America Centenario
MEXICO: CONCACAF Gold Cup
CAMEROON: Africa Cup of Nations
AUSTRALIA: AFC Asian Cup
NEW ZEALAND: OFC Nations Cup
The football legend stated that the team has a long way to go before a legendary Confederations Cup victory is possible, but he is still determined to give his best shot. Arguably, superstition has nothing to do with your success, whether you're playing at a blackjack table or in premier league football. Regardless of this fact, Ronaldo still wouldn't dream of physically touching the trophy for fear of bad luck.
He has, on the other hand, given some thought to holding it in his dreams, telling FIFA that he "… would like to win it, it would be a dream but there is still a lot of work to be done."
Named best footballer of the year at the FIFA 2015 awards ceremony, Ronaldo is a on a steady path to greatness. In terms of his ambitious goal of acquiring the Confederations Cup, luck is on his side, since Portugal has been grouped with less competitive teams per the Daily Mail,
"Portugal have been placed in the easier of the two groups in the Confederations Cup and will face CONCACAF Gold Cup holders Mexico in their opening game in Kazan on June 18."
Portugal will then play against Russia in the nation's capital on the 21st, followed a match against New Zealand on the 24th that will take place in St. Petersburg. This means that not only is Ronaldo's dream of holding the cup a likely outcome, but there are some thrilling matches coming up just in time for summer for fans to enjoy.