Puma is going to launch the all new Puma Evopower football cleats for Cesc Fabregas on the eve of New Year. Puma will reveal these new Evopower soccer shoes just before the two weeks of their second generation of Puma Evopower 1.2 graphic boots. Check out below that what type of stuff, technology and design is used in the new Puma Evopower football boots for Cesc Fabregas.
Puma New Evopower Football Boots for Cesc Fabregas
Puma has already revealed signature football cleats for Marcos Reus and Mario Balotelli. Now its turn to Cesc Fabregas, the Puma is going to reveal the boots which is specially designed for Cesc Fabregas. The Boot features the trademark tricks concept using the colors of Chelsea, blue and white.
The new Puma Evopower Cesc Fabregas Cleats boasts a striking half and half design. On the lateral side of the Puma Evopower Boot, the blue color is used with a white Puma form stripe, whereas the instep will be white with a special blue graphic pattern.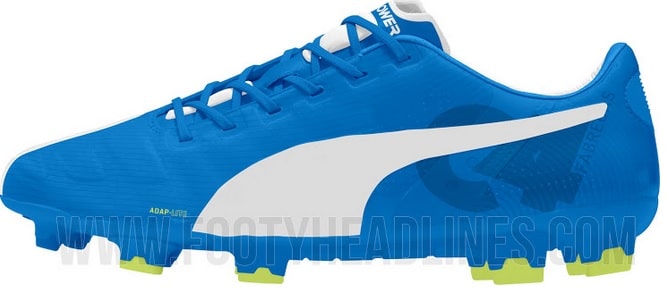 In the new Blue / White Cesc Fabregas boots consist the contrasting yellow studs and also shows the signature c4abregas logo on the out step which is based on the same design as Puma used for Mario Balotelli Signature cleats.
Read also: Puma Evopower 1.2 Dragon Boots
Shoes manufacturer Puma is using same technologies in the new Puma Evopower Cesc Fabregas Boots as used in the first Puma Evopower cleats. In late January 2015, the Puma will release the new edition of Puma Evopower namely next-gen Puma Evopower 1.2 Football Boots.
The new Blue / White Puma Evopower Cesc Fabregas 2015 Football Boots will be worn by the Chelsea midfielder Cesc Fabregas against Tottenham Hotspur in upcoming game of Premier League.
From January 1, 2015, the limited editions of the new Puma Evopower Cesc Fabregas Cleats will be available at selected retailers in various countries.
With a Puma Evospeed Sergio Aguero Soccer cleats, Puma will complete the signature collection for their best players on January 17, 2015. So don't miss the next clash of Chelsea vs Tottenham to watch these shoes on Cesc Fabregas.