The latest Puma Evospeed 1.3 dragon boots are leaked. Here are the leaked pictures and photos of Puma's upcoming soccer cleats. In football world, they are also famous for their limited edition football boot and unique cleats. Puma is one of the brand who usually know for its variety and uniqueness in the every part whether its football cleats or fashion world. Recently, they introduced the Puma Tricks World Cup Football Boots and the Mario Balotelli Tricks Boots. Now, they are going to reveal the new edition of the PUMA Cleats in the starting of the January 2015. See below the full description of Puma evospeed 1.3 Dragon Boots.
Puma Evospeed 1.3 Dragon Boots Leaked
The new Puma evoSPEED 1.3 Japanese Dragon Edition is mainly white an one of a kind red / dark which shows traditional Japanese dragons. We have seen Adizero dragon boots of Adidas which were launched few months ago. In other words, these new boots of Puma are inspired by Adidas Yamamoto dragon boots. Have a look on leaked image of Puma dragon boots below.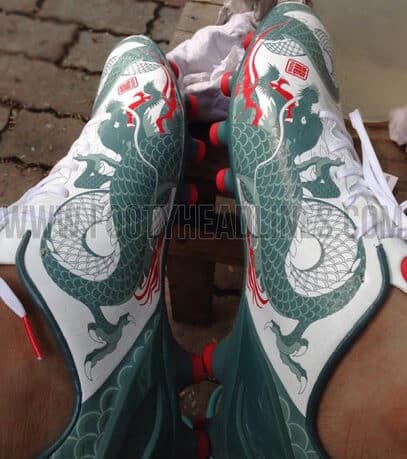 In the Japanese mythology, Japanese dragons are legendary creature. They were also used by Adidas in the Adidias F50 Adizero Boot and the Real Madrid 2014–15 Champions League Black third kit.
The Puma evoSpeed 1.3 Dragon edition features a special dragon skin pattern on the heel which designed to stand out on the pitch. The outsole and external heel counter of the new Japanese Dragon Puma evoSPEED Boots are green.
The new and special Japanese Dragons edition removes the large PUMA branding from the instep as well as the 3D Grip Tex and the external ever fit Cage from the upper. Dragons are designed pearl green with some red colored applications. Ends of spikes are also provided marked with red color.
These new Dragons Soccer Cleats of Puma will be unveiled in January 2015. From starting of the January 2015, the new Puma evoSPEED 1.3 Japanese Dragons Soccer Cleats will be available at the selected retailers.
Keep stay tuned with us for the new stuffs of football jerseys, boots and more.