Recent news has revealed that one of the leading sports brand Puma has launched new football boots. The news boots are launched with Puma's slogan startbelieving. Also the studs are launched with lots of football stars like Thierry Henry, Marco Reus, Mario Balotelli, Cesc Febregas. The company has also made a video ad campaign for this launch which is getting great response from audience. Puma is going for big things with its brand new footwear release and some big names are lining up to wear the newly announced Puma evoPOWER boots. Here we got a new topic of Puma football boots. So lets start discussion.
Puma evoPOWER Football Boots Features
The all new evoPOWER football studs are designed with new innovation that Puma simply abbreviate as GSF. The GSF stands for Gradual Stability Frame is a spine that runs down the boot's outsole and allows the foot to safely bend both ways, allowing the movement to be as close as possible. The boots have also facility of flexibility. When you bend your feet wearing these boots, these studs also bends in same direction. The lace are designed away from the which side which is used to shoot or pass so that the player can have a better control on ball. The internal of boot is also made with rubber material which not only make the player comfortable, but also helps him to shoot according to requirement.
What Football Stars Said During Launch
The ad features some football stars like the star of Borussia Dortmund Marco Reus, Barcelona's Cesc Febregas, AC Milan's forward Mario Balotelli & former Arsenal & Barcelona forward Theirry Henry. What they said after using these studs?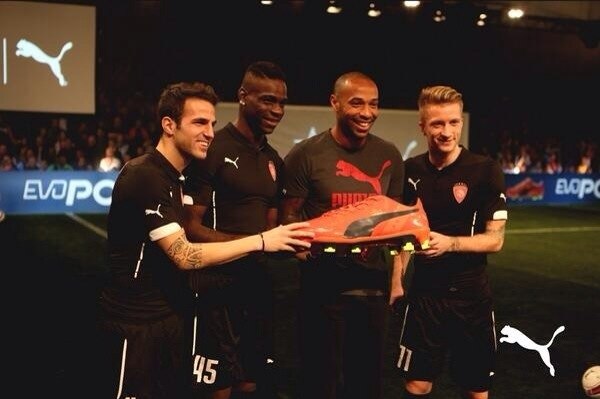 Mario Balotelli
"I am new to the Puma family, and the football boots they produce were one of the reasons for me signing the deal. The evoPOWER boot impressed me from the first day I tried it in training. I had not really seen a boot like it before. What PUMA say about it is true, the flexibility helps create a better contact with the ball and generate good shooting power."
Cesc Febregas
"Taking inspiration for a football boot from an actual foot sounds like the most obvious thing in the world, but in all the time I have spent in football, it is the first time I have heard of this being done. When you try on these new boots, they are actually quite different to what we have worn before. They are so much more flexible; the way they bend with the natural shape of your foot really helps you to shoot harder."
Video of Puma evoPOWER Football Boots Ad
Puma has also made an ad campaign for ts new football cleats. The ad is just amazing you are will watch it again after watching once. So have a look on ad video.