UEFA Champions League 2014–15 have reached round of sixteen with Europe's best 16 teams of this season. Once again, Real Madrid, Barcelona and FC Bayern Munich have qualified for next round as winners of their respective groups. The possible rivals of each each are updated before round of 16 draw of UCL. The Union of European Football Association have made two seeding pots for pre quarter finals. One pot is of group winners and other of runner-ups. Take a look on possible line ups of winners below.
Barcelona Possible Rivals of Round of 16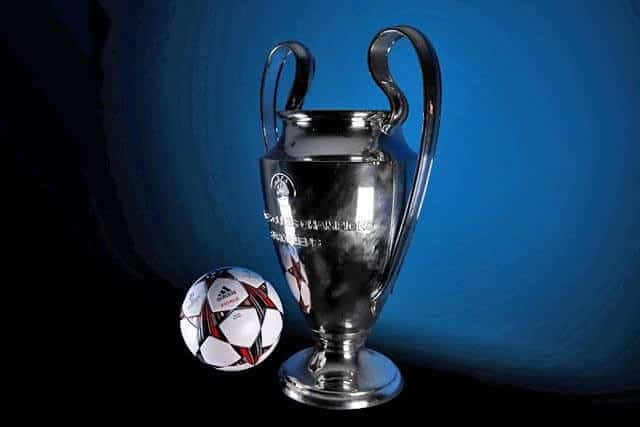 Being runner-ups of La Liga 2013–14, FC Barca qualified directly for group stage. Collecting fifteen points in group stage, Barca qualified as winners of Group F. Their star forward Lionel Messi is the top goal scorer of the club in this season of Champions League as the player netted eight times. Last season, they finished this competition in quarter finals after 1–2 aggregate loss against country rivals Atletico Madrid. Possible Rivals: Shakhtar Donetsk, Schalke 04, Manchester City, Arsenal, Bayer Leverkusen, FC Basel and Juventus.
Real Madrid Possible Rivals
Possible Rivals: Shakhtar Donetsk, Schalke, Paris Saint Germain, Manchester City, Arsenal, Bayer Leverkusen, Juventus. Being defending champions and third place holders of Liga BBVA last season, Real Madrid also qualified directly to group stage of UCL 2014–15. Real Madrid was the only team that won all group stage games. They are now the first ones who achieved this milestone twice in the history of Champions League competition. There are two top scorers of Real Madrid this season in the names of Karim Benzema and Cristiano Ronaldo. Both of them have scored 5 goals so far in this season.
Bayern Munich Probable Rivals
Being champions of Germany, the Bavarians got direct ticket in European tournament. One of the most successful team of UCL is one of the strongest competitors of this championship. Once again, Bayern Munich faced another loss against Manchester City in group stage just like last season. But still, they qualified for pre quarter final as winners of Group E Probable Rivals: Juventus, FC Basel, Arsenal, Paris Saint Germain, Shakhtar Donetsk.
Chelsea FC Possible Opponents
Jose Mourinho's squad qualified for group stage after finishing last season at third spot. The blues scored most goals in previous six games. Former Atletico Madrid striker Diego Costa, Cesc Fabregas, Eden Hazard, Nemanja Matic and John Terry, all have scored two goals each in this season. Chelsea were knocked out in semi finals of UCL 2013–14 by Spanish giants Atletico Madrid. Possible Opponents: Shakhtar Donetsk, Paris Saint Germain, Bayer Leverkusen, FC Basel, Juventus.
Atletico Madrid Probable Rivals of Round of 16
Being champions of Spain last year, Atletico de Madrid is also one of the strongest competitors of Champions League. Their new forward Mario Mandzukic is turning out to be a perfect replacement of Diego Costa. The Croatian forward has netted five goals in previous games and is the top scorer of Atletico Madrid. Can they lift their first ever trophy in this season? Possible Rivals: FC Basel, Bayer Leverkusen, Arsenal, Manchester City, Paris Saint Germain, Schalke, Shakhtar Donetsk.