Nike have unveiled the new Nike Mercurial Superfly and Nike Magista Obra 2015 World Cup football boots for women. For the upcoming big event, the kit supplier have introduced pretty cool boots specially for women. Both Mercurial and Magista Obra soccer cleats are featured with flyknit collar. Check out these two new football boots which are specially designed for 2015 FIFA Women's World Cup.
Nike Mercurial Superfly 2015 Women Football Boots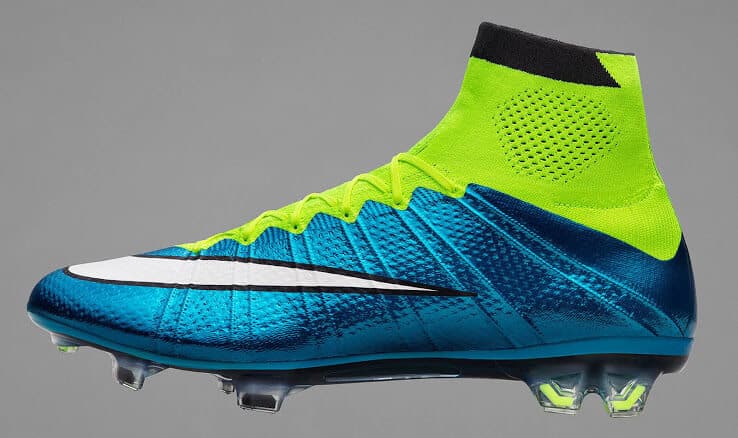 The mercurial soccer shoes are in cyan and green with a flyknit collar, replacing tongue of boot. These are designed for the 2015 FIFA Women's World Cup which is to be held in Canada. Volt is used for the upper part of the boot to create an integrated look with the new Nike USA 2015 home kit.
Front and back of boot is featured with cyan appearance. A white colored Nike swoosh is designed at the front with black borders. Flyknit collar is in green with black ending at the top of collar. The ultra-thin upper flyknit upper features Nike skin and fly-wire for a barefoot like touch.
As like previous Mercurial boots, the outsole is made up of carbon fiber plate in order to provide the maximum speed. Inside area is designed with green appearance on which some ventilation hole are also provided. It also features orange text "Mercurial" inside it.
Nike Magista Obra 2015 World Cup Women Football Boots
With few changes, Nike have made the women Magista Obra boots quite similar to Mercurial Superfly. the major difference is its honey comb maize structure which is provided at the front of boot. This layout helps in providing better ball control.
Related: Blackout reflective Nike Academy Pack boots
White colored Nike swoosh is on the sides of boots with black boundaries. The Nike Magista Obra 2015 Women's World Cup boots are featured with a stunning blue lagoon sole plate with a volt upper and dynamic fit collar.
Its colors are inspired by the famous lake of World Cup host Canada and the 2015 US Women's National Team home kit with its volt socks. These boots are set to be available in Women's sizes up to US 13.