Ney­mar is the pro­fes­sion­al Brazili­an foot­ball play­er who is cur­rently play­ing for Brazil nation­al foot­ball team. He was born in Mogi das Cruzes a state of Brazil. His date of birth is 5th of Feb­ru­ary 1992. His full name is Ney­mar da Silva San­tos Juni­or. His pro­fes­sion­al foot­ball club is a Span­ish club which is Bar­celona which signed him recently. The club par­ti­cip­ates and plays matches of La-Liga & his pos­i­tion in foot­ball ground is of For­ward both in Nation­al team & in club.
Know him Per­son­ally and Pro­fes­sion­ally

Birth date

5-02-1992

Birth place

Mogi das Cruzes

Full name

Ney­mar da Silva San­tos Juni­or

Play­ing Pos­i­tion

For­ward

Nation­al Career
Year
Goals

Brazil-U17

2009

1

Brazil-U20

2011

9

Brazil-U23

2012

4

Brazil

2010 onwards

24
Personal Life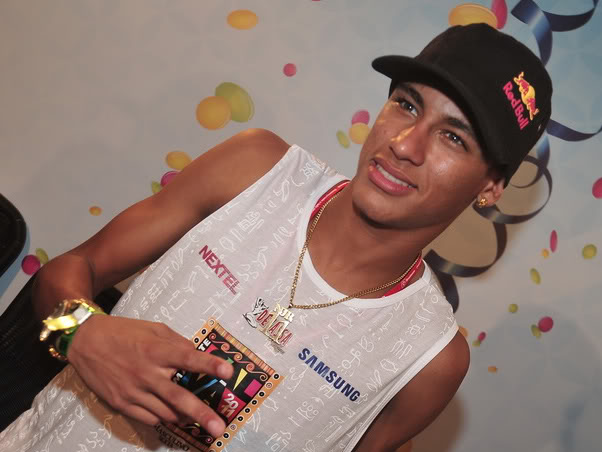 His fath­er is also a foot­ball play­ers and the tal­ent of his fath­er was inher­ited to Ney­mar. His whole child­hood was spent with his fath­er & he has writ­ten a quote on his fath­er & that quote is "My fath­er has been my side I was little. He has done his duty very well as fath­er in ful­filling my needs includ­ing my fin­ances and my fam­ily".
His fam­ily took him to Sao Vicente in the year of 1992. Here, he began his foot­ball career for youth side Por­tugese Santista. After that his fam­ily has shif­ted to San­tos in 2003. In San­tos, Ney­mar the foot­ball club San­tos F.C. This was the time when Ney­mar star­ted tast­ing huge suc­cess & also income. He has earned to enough money by which his fam­ily was able to buy a prop­erty.
Along with fame he star­ted earned money when he was just 15. His earn­ing was 10,000 reais/month which was raised to 25000 reais/month at 16 years of age. He has also received spon­sor­ships and signed full con­tracts when he was 17. His monthly income is Rs.5crore and he has earned Rs.100crore so far.
Brilliant Performance in Confederation Cup 2013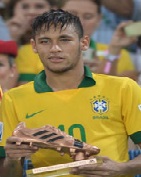 With his bril­liant per­form­ance in Con­fed­er­a­tion cup, Brazil has suc­cess­fully won the title after beat­ing the world & European cham­pi­on Spain. The final match was com­fort­ably won with goal score of 3–0. With this loss, Brazil has stopped the win­ning flow of Spain after win­ning 29 matches con­sec­ut­ively. In the whole tour­na­ment, Ney­mar was selec­ted as man of the match 3 times. He was awar­ded with Golden ball and Bronze win­ner.
DON'T MISS: Lionel Messi Quotes on Foot­ball
Relation and Founder of Help children foundation
He is in rela­tion with Fernando Bor­ros since long time. In the year of 2010, Bor­ros gave birth to son of Ney­mar but they are unmar­ried. When Ney­mar became of fath­er his age was 19.
He is also the founder of Help Chil­dren Found­a­tion. This helps the Brazili­an kids in terms of study oth­er social activ­it­ies. He has taken this step to do his duty as fath­er and also as a play­er. Some of play­ers of home nation called him their role mod­el.
Brand Ambassador of Nike and Other Companies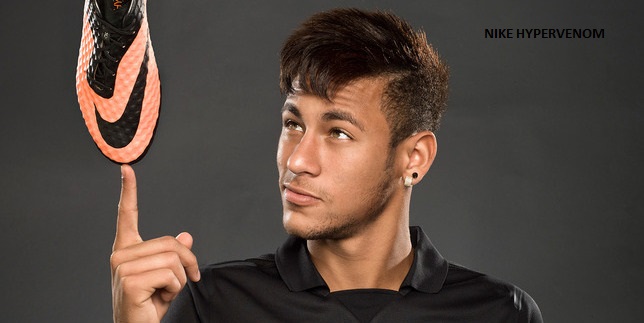 Although Cris­ti­ano Ron­aldo made a con­tract with Nike but Ney­mar is not behind in the race of Brand­ing and at the age of only 17, Ney­mar got attrac­tion of Nike & the com­pany signed him for 11 years. This is the first con­tract for any play­er at the age of just sev­en­teen years in his­tory of foot­ball.
Not only Nike, he is already signed by some nam­ing com­pan­ies like Red-bull, Panason­ic and Uni­lever by which he is earn­ing huge amount. With his grow­ing fame some more com­pan­ies are look­ing to make fur­ther con­tracts to pro­mote their products.
No more Malaria
He is inspired from Dav­id Beck­ham to sup­port the Lat­in coun­tries to help the vic­tims of mal­aria. He has joined hands with some coun­tries which can help those who are suf­fer­ing from this dis­ease. He travels with his team mem­bers across some coun­tries & sug­gest using suit­able equip­ments which can pre­vent them from mal­aria.