Mexico Team Squad For Copa America 2015 | Players Roster: The team squad of Mexico National Football Team for the upcoming Copa America football competition has been announced. One of the best South American soccer team is ready to make this tournament an interesting one. Once again, Miguel Herrera will be the coach of team. The team squad have some best players along with some young talents who are desperate to make their place permanent in national team squad. Given below is the players roster of Mexico for 2015 Copa America.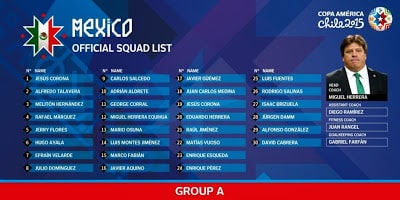 Mexico Team Squad For Copa America 2015 Players Roster
There is no surprise in the team squad as the coach have picked up the predictable players. There will be huge responsibility on shoulders of James Andres Guardado who will lead the team throughout the tournament. Given below is the team players roster of Mexico. Have a look!
GOALKEEPERS
Jesus Corona
Cruz Azul
Alfredo Talavera
Toluca
Meliton Hernandez
Veracruz
DEFENDERS
George Corral
Queretaro
Gerardo Flores
Cruz Azul
Rafa Marquez
Hellas Verona
Hugo Ayala
Tigres
Julio Cesar Dominguez
Cruz Azul
Carlos Salcedo
Chivas
Miguel Herrera Equiha
Pachuca
Adrian Aldrete
Santos Laguna
Velarde
Monterrey
MIDFIELDERS
Mario Osuna
Queretaro
Juan Carlos Medina
Atlas
Javier Guemez
Tijuana
Jesus Corona
FC Twente
Marco Fabian
Chivas
FORWARDS
Raul Jimenez
Atletico Madrid
Edurado Herrera
Pumas
Enrique Esqueda
Tigres
Matias Vuoso
Chipas
A list of injury alternatives has been also made who'll play as during emergency call. This list is consists of Enrique Perez [Atlas], Arturo Gonzales [Atlas], Isaac Brizuela [Chivas], Jurgen Damm [Pachuca], Rodrigo Salinas [Pachuca], Luis Fuentes [Pumas], David Cabrera [Pumas]. Mexico are in Group A with host team Chile, Ecuador and Bolivia. They will first face Bolivia on 12th June, thereafter Chile and then Ecuador on 15 June and 19 June Respectively. This is the ninth appearance of Mexico in Copa America. La Verde have never this championship since 1993 when they first qualified. Their best result is being runners-up in 1993 and 2001. Related: Argentina players roster for Copa America 2015 So this is the list of all team squad players of Mexico national football team who will represent Mexico in Copa America football tournament. Can they win, will they first ever Copa America football championship?